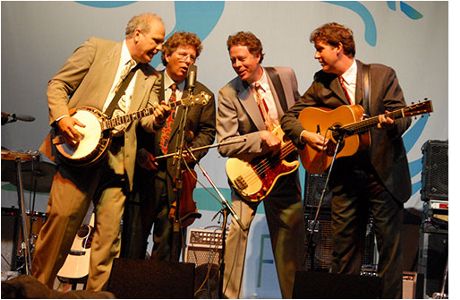 On November 7th at the University of Colorado Macky Auditorium in Boulder, Colorado, bluegrass artists Hot Rize with Red Knuckles & The Trailblazers will be presenting a benefit concert to aid victims of the recent Colorado floods. In mid September, the rains came to Colorado and they just kept on coming. Much of the area north of Denver and around the Boulder region were flooded including Craig Ferguson's famed Planet Bluegrass that hosts the annual RockyGrass bluegrass festival. From Longmont to southern Colorado Springs, 100 miles away, flooding was evident as several inches of rain dropped every hour. Rivers were swollen and washed out roads, bridges and homes.
Even Dr. Banjo, Pete Wernick, of Hot Rize, had flooding on his property. Artists, promoters, fans and more were inundated with flood waters throughout the region. Cleanup is continuing and this benefit concert is just one of the many ways that bluegrass family come out to help those in need.
If you have experienced significant flood damage and/or were displaced from your home, $5 (covers event costs only) is all you need pay to attend. Additional donations will be welcome and accepted at the event. A large but limited number of these tickets will be set aside by request, in advance only. You MUST visit HotRize.com [1] and follow the instructions on their page for tickets.
Hot Rize has marked over 30 years in the bluegrass history book. Following the untimely passing of guitarist Charles Sawtelle in 1999, the band reorganized in 2002 with Bryan Sutton on guitar and has continued to play several shows each year, delivering its high-energy, soulful, and unique sound to fans old and new. Though many years from its full-time touring period of 1978-1990, Hot Rize has kept its legend growing by delivering first-class music and entertainment as only it can.