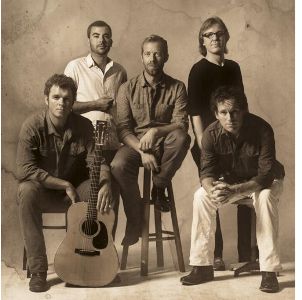 Wilkesboro, NC -- MerleFest, presented by Lowe's and slated for April 24-27, 2014, introduced a sneak peek to its lineup at International Bluegrass Music Association's (IBMA) World of Bluegrass in Raleigh, and many of the artists on the sneak peek lineup brought home IBMA awards. MerleFest was a sponsor for the North Carolina Bluegrass Pavilion at this year's World of Bluegrass. MerleFest, a four-day event that is an annual homecoming of musicians and music fans, will once again take place on the campus of Wilkes Community College in Wilkesboro, North Carolina.
"Our IBMA sneak peak lineup is jam-packed with incredible bluegrass talent, which explains why so many of them brought home trophies from the IBMA awards ceremony," says Steve Johnson, artist relations manager for MerleFest. "We let music fans attending in Raleigh know that MerleFest will present a strong bluegrass lineup in April. So, we were pleasantly surprised when the award presenters kept calling names from our sneak peek lineup as IBMA award winners. It affirmed my belief that MerleFest 2014's lineup will offer a lot of excitement. This includes our recent announcement that Alan Jackson will perform from his new album, The Bluegrass Album, at the festival. We have lots of other special MerleFest moments planned as well."
The sneak peek lineup included the following:
Balsam Range – IBMA 2013 Album of the Year (Papertown)
Terry Baucom and Cindy Baucom – IBMA 2013 Recorded Event of the Year (Terry is a MerleFest performer and Cindy is a MerleFest emcee.)
Sam Bush
The Claire Lynch Band – IBMA 2013 Female Vocalist of the Year (Claire Lynch)
Dailey & Vincent with Jimmy Fortune
Della Mae – IBMA 2013 Emerging Artist of the Year
The Hillbenders
I Draw Slow
Mark Johnson
Chris Jones & The Night Drivers
The Kickin Grass Band
The Kruger Brothers
Emory Lester
The Lonesome River Band
The Nashville Bluegrass Band
Mark Newton & Steve Thomas
Niall Toner Band
Nu-Blu
Missy Raines and The New Hip
Red June
Peter Rowan
Junior Sisk & Ramblers Choice – IBMA 2013 Male Vocalist of the Year (Junior Sisk)
Sleepy Man Banjo Boys
Frank Solivan and Dirty Kitchen – IBMA 2013 Banjo Player of the Year (Mike Munford); IBMA Momentum Award Instrumentalist of the Year (Chris Luquette)
Dr. Ralph Stanley
The Steel Wheels
Steep Canyon Rangers
Bryan Sutton – IBMA 2013 Guitar Player of the year
Town Mountain – IBMA 2013 Momentum Award Vocalist of the Year (Robert Greer)
The Travelin' McCourys
Volume Five
Richard Watson
Pete Wernick
Additional performers for MerleFest 2014 will be announced in the coming weeks. Fans can get the latest news about this year's festival by signing up for the MerleFest e-newsletter at www.merlefest.org [1] or by following MerleFest on Facebook or Twitter.
Tickets for MerleFest 2014 go on sale November 12 and can be purchased at www.merlefest.org [1] or by calling 1-800-343-7857. An early bird ticket discount is available through March 10, 2014.
MerleFest, considered one of the premier music festivals in the country, is an annual homecoming of musicians and music fans held on the campus of Wilkes Community College in Wilkesboro, North Carolina. MerleFest was founded in 1988 in memory of the late Eddy Merle Watson, son of the late American music legend Doc Watson. MerleFest is a celebration of "traditional plus" music, a unique mix of music based on the traditional, roots-oriented sounds of the Appalachian region, including bluegrass and old-time music, and expanded to include Americana, country, blues, rock and many other styles. The festival hosts over 90 artists, performing on 13 stages during the course of the four-day event. The annual event has become the primary fundraiser for the WCC Endowment Corporation, funding scholarships, capital projects and other educational needs.