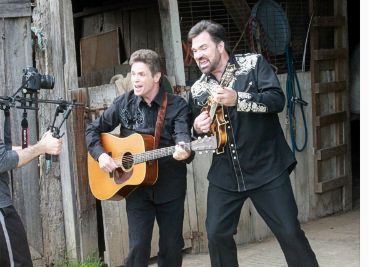 Nashville, TN -- Mark Newton & Steve Thomas will appear on WSM Radio's Coffee, Country and Cody show Thursday, October 10 at 9:00 am. Fans can tune in at WSM 650 AM or listen online at wsmonline.com and hear music from the group's new Pinecastle Records album,
Reborn
. This popular new project includes the radio chart single, "Old McDonald Sold The Farm" that has also been released as a music video.
The group performed numerous times during the recent International Bluegrass Music Association's World of Bluegrass held in Raleigh, NC including their tremendous performance on the Center Stage in downtown Raleigh, WAMU Bluegrass Country live from IBMA and many more fun events during the successful event.
Newton & Thomas will return to Kimbro's Pickin' Parlor located at 214 S. Margin St., Franklin, TN on Thursday, October 10, 2013 at 7:00 pm. On Sunday, October 13, fans can tune into the Bluegrass Café radio show with Host Jim Beaver on WHUS FM in Storrs, CT at 5:00 pm.
For additional tour dates such as the upcoming Bluegrass First Class, MerleFest, Graves Mountain Festival of Music and more, please visit NewtonandThomas.com or follow them on Twitter and Facebook. For more information on Pinecastle Records, please visit pinecastlemusic.com.