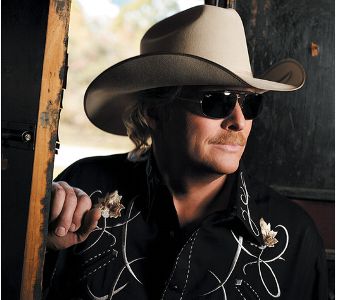 As most bluegrass and Alan Jackson fans are aware, Jackson ventured into the Bluegrass Music arena with his latest project,
The Bluegrass Album
. This is the first Country to Bluegrass artist to hit the mark and hit it dead center. Jackson is also quite the bluegrass songwriter! His songs on the album are what makes this project so unique. Jackson literally nailed it with this release. One of the songs that reflects the essence of this project is "Blueridge Mountain Song." Jackson has released the first of two planned videos featuring this song. His daughter, Ali, stars in this first video.
CMT Edge summarizes this new release saying, "In the brand new music video for 'Blue Ridge Mountain Song,' Jackson sets up the story of a young and promising love affair. But this being a bluegrass tune, well … you can probably guess what happens to the fair maiden."
"Appalachian Mountain Girl" is a Jackson original that confirms he can not only write a great song but, he can play solid bluegrass music as well. Jackson's originals have the heart and soul of bluegrass deep to the core. "Blue Ridge Mountain Song" is a fine example of the storyline ballad style accompanied by solid instrumentation.
By bringing a host of top bluegrass musicians into the mix, Jackson achieved a bluegrass sound. From Adam Steffey's mandolin to Rob Ickes Dobro and Sammy Shelor's banjo the combination rings true to a genre that often is intolerant of deviations. On The Bluegrass Album, the boundaries are definitely stretched but, in a way that even hard-core bluegrass fans will enjoy.
As country music turns into rock music, Jackson successfully returns the music back to its roots with The Bluegrass Album and this song is about as rootsy as it gets. Jackson is familiar riding the top of the country charts with songs like "The Angels Cried" and "Like Red on a Rose" with Grammy award winner Alison Krauss. He handles hard core country with the same simplicity as touching ballads and stories of small town life. Bluegrass is totally comfortable territory as it holds the same roots and values found in most of Jackson's repertoire. He proves it with The Bluegrass Album.
This is a touching video, a wonderful song, and an even better album. We look forward to the second video when it is released.