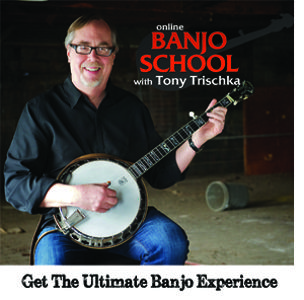 Napa, CA -- ArtistWorks, the leading interactive lifestyle social learning platform, announced today the release of even more exclusive content for the Online Banjo School with Tony Trischka. Trischka's importance as a banjo player is widely acknowledged. As a teacher, he can claim players like Bela Fleck as star students. As a historian, Trischka has contributed as musical director for PBS' "Give Me The Banjo." In the four years since its launch, The Online Banjo School with Tony Trischka has evolved into an important banjo resource that reflects all facets of Trischka's significant contributions to the banjo community.
ArtistWorks' Online Banjo School with Tony Trischka combines hundreds of Tony's high-definition video lessons with a thriving community of banjo players who have the ability to submit practice videos and get personalized video feedback from Trischka himself. These video interactions are visible to the entire community, and all members can learn from every Video Exchange that takes place on the site. The Video Exchanges each become a new lesson unto themselves, forming a constantly growing and evolving curriculum reflecting the interests of the community.
Together ArtistWorks and Tony Trischka Build One of THE Most Historically Significant Banjo Resources Available. Newly added lessons and exclusive content add to Tony Trischka's devotedly-curated library of lessons, guest interviews, performances, and guest lessons.
In addition to the already robust content base of exclusive lessons, interviews and performances, ArtistWorks and Trischka just released:
Eleven (11) exclusive new beginner and intermediate banjo lessons
Five (5) inspiring guest performances/lessons with mandolin master Mike Marshall
Six (6) fantastic songs from Steve Martin and the Steep Canyon Rangers from their 2011 Rockygrass performance
Thanks to these newly released additions, Trischka's comprehensive online banjo community now features:
Over 200 pre-recorded lessons from Tony Trischka
Over 3,500 Video Exchange™ teaching interactions between Tony and his students
Over 34 special guest performances and interviews, including guest players and teachers like Mike Marshall, Earl Scruggs, Bill Monroe, Pete Seeger, Bela Fleck, J.D. Crowe, Steve Martin, Noam Pikelny, Snuffy Jenkins, Jens Kruger and many more.
Remarkable live performances including the new live performance by Steve Martin and the Steep Canyon Rangers and special live performances by Trischka, J.D Crowe and others.
The Online Banjo School with Tony Trischka provides unlimited access to Tony's bottomless well of banjo knowledge through on-one-one video exchanges, his lessons and the vast library of Video Exchanges and exclusive guest content for an affordable $90 for three months of unlimited access, $150 for six months and $240 for 12 months. For more information, visit TonyBanjo.com
Founded in 2008 by former AOL executive David Butler and former financial executive Patricia Butler, ArtistWorks, Inc. is the leader in a new generation of online learning platforms. Their revolutionary global learning community of world-renowned teaching artists and enthusiastic amateurs is dedicated to unleashing the music that lies within all of us. This "next generation" Video Exchange Feedback Platform enables virtuoso artists and musicians to "teach the world" by presenting their creative legacy in the form of HD video lessons to subscribing students. Utilizing simple web cams, smartphones, tablets or video cameras, students are able to submit practice videos and get individualized video feedback and guidance from their teaching artists - creating a constantly evolving two-way, online learning experience.
ArtistWorks currently offers schools from such world-class artists as: Paul Gilbert (rock guitar lessons), Martin Taylor (fingerstyle guitar lessons), Jason Vieaux (classical guitar lessons), Andreas Oberg (jazz guitar lessons), Jeannie Deva (singing lessons), Nathan Cole (violin lessons), Jeffrey Khaner (flute lessons), William Caballero (French horn lessons), David Bilger (trumpet lessons), Ricardo Morales (clarinet lessons), Nathan East (electric bass lessons), John Patitucci (jazz bass lessons), Howard Levy (harmonica lessons), DJ Qbert (DJ lessons), Christie Peery (piano lessons), Billy Cobham (jazz and fusion drum lessons), Luis Conte (percussion lessons), as well as the ArtistWorks Academy of Bluegrass with Tony Trischka (banjo lessons), Missy Raines (double bass lessons), Bryan Sutton (flatpick guitar lessons), Andy Hall (Dobro lessons), Mike Marshall (mandolin lessons), Darol Anger (fiddle lessons), and Justin BUA (art lessons). For more information, visit ArtistWorks.com