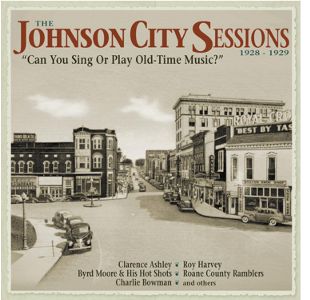 Bristol, TN/VA, October 8, 2013 - East Tennesee State University and Birthplace of Country Music ® present Johnson City Sessions Weekend, October 17-20, 2013, an event-packed weekend celebrating the release of Johnson City Sessions 1928- 1929: Can you Sing or Play Old-Time Music? CD Box Set, re-mastered by Germany's Bear Family Records.
"The release of the Johnson City Sessions has the potential to do for Johnson City what the Bristol Sessions did for us," states Birthplace of Country Music® Executive Director Leah Ross."It is our sincerest hope that Johnson City Sessions Weekend will showcase all the valuable programming ETSU has to offer." "Many folks recognize Ralph Peer's work with the Bristol Sessions as the 'Big Bang' of country music, " says Ross, "the continuation of that work by Frank B. Walker in Johnson City is just as significant to our Appalachian music heritage."
The Johnson City Sessions, conducted by Columbia Records producer Frank B. Walker in October 1928 and October 1929 in Johnson City, Tennessee, are generally viewed as the second-most important field recording sessions ever conducted in Appalachia (the most influential being the Bristol Sessions of July-August 1927).
Collectively, the 1928 and 1929 Johnson City Sessions recordings for Columbia Records are deemed by today's scholars and record collectors as constituting a strong, distinctive, cross-section of old-time Appalachian music at the cusp of the Great Depression.
"The legacy of the music that came from the surrounding area is an important part of our regional heritage," says Anita DeAngelis, Director of East Tennessee State University's Mary B. Martin School of the Arts. "ETSU's programs in Appalachian Studies and in Bluegrass, Old-Time, and Country Music Studies play an important role in the continuation of that heritage. We are pleased to be part of the celebration of the Johnson City Sessions and the performance with Mountain Stage."
The forthcoming Bear Family Records box set marks the first time that the 1928 and 1929 Johnson City Sessions recordings have been compiled in any form. Naturally East Tennessee State University, home of the center for Appalachian Studies, and originator of the leading Bachelor of Arts degree program in Bluegrass, Old-Time, and Country Music Studies, should be called upon to celebrate this historic occasion.
A weekend-long celebration of events is planned during Johnson City Sessions Weekend, October 17-20, at a number of locations in Johnson City. A Johnson City Sessions Box Set producer's reception will be held on the campus of ETSU at the Carroll Reece Museum October 17, with a presentation by box set co-producer Tony Russell.
A Johnson City Sessions Box Set Release Party will take place at The Down Home October 19 with family members of the original Johnson City Sessions in attendance. October 20, The Boots, Blues, & BBQ VIP Gala will be held prior to a recording of Mountain Stage with Larry Groce. The Gala takes place inside Venue at the King Centre, with food, drink and premium seating at Mountain Stage included in a packaged ticket price. Tickets to Mountain Stage at ETSU can be purchased separately, students recieve a discount.
Mountain Stage, the two-hour radio program heard on NPR stations across the country and overseas on the Voice of America, is no stranger to the Tri-state region, having first brought the program "on the road" from its base in West Virginia to Bristol in 2006.
"Audiences always come to see Mountain Stage anxious to see one guest in particular, "says Mountain Stage with Larry Groce Executive Producer Adam Harris."Inevitably, we'll turn them on to an artist that they'll become fans of for life. It's one of the perks of going to Mountain Stage, listeners always hear something new."
The October 20th Mountain Stage appearance at ETSU is the 12th recording sponsored by Birthplace of Country Music®, the first ever in Johnson City. Mountain Stage has recorded 11 episodes in conjunction with BCM, dating back to 2006 when they recorded two nights in a row for television. Now celebrating their 30th season, Mountain Stage will record episode #803 in Johnson City.
The Johnson City show will feature Tim O'Brien and Darrell Scott, whose recent release "Memories and Moments" was met with great acclaim. O'Brien has been a guest on Mountain Stage more times than any other artist. Episode #803 will be O'Brien's 29th appearance on the program, including his appearance with Hot Rize, his sister Molly O'Brien, and solo. Darrell was a guest on one of the very first Bristol Mountain Stage shows in 2006. The line-up also includes young mandolin player Sarah Jarosz, modern string-band The Deadly Gentlemen and Canadian banjo player Old Man Luedecke.
Other guests Mountain Stage has brought to the region since 2006 include Vince Gill, Dr. Ralph Stanley, Marty Stuart, Doc Watson, Robert Cray and Dierks Bentley.
ETSU and Johnson City is the home of Mountain Stage's regional affiliates, WETS-FM, who has carried the show since the early days.They have been a strong partner with Mountain Stage and BCM when they record in the region. Mountain Stage is produced by West Virginia Public Broadcasting and distributed by NPR. The show is heard on 135 stations across the country and overseas on the Voice of America. Each two hour show features 5 guests plus host Larry Groce and the Mountain Stage house band. The Johnson City episode will be broadcast later in the year.
Johnson City Sessions Weekend Calendar of Events:

Thursday, October 17, 4:30pm

Johnson City Sessions Box Set Reception/Presentation — FREE EVENT
Carroll Reece Museum, East Tennessee State University
Johnson City Sessions Box Set Co-Producer Tony Russell
Live Music by Roan County Ramblers

Saturday, October 19, 7:00pm

Johnson City Sessions Box Set Release Party — TICKETS $20 (click to purchase)
The Down Home, 300 W. Main St., Johnson City, TN
With family members of Johnson City Sessions musicians 1920s-era Appalachian music by Hello Stranger ft. Dale Jett, The Corklickers, The ETSU Blues Band, The ETSU Old-Time Pride Band, and The Bowman Family Band

Sunday, October 20, 5:00pm

VIP Gala Event & Mountain Stage — PACKAGE $75 (click to purchase)
Venue at the King Center, 300 E. Main St.
Heavy hors d'oeuvres, cocktails included
Preferred seating Mountain Stage tickets will be distributed to VIPs at Gala Event

Sunday, October 20, 7:00pm

Mountain Stage with Larry Groce — TICKETS $35 (click to purchase)
Martha Street Culp Auditorium at DP Culp University Center
East Tennessee State University
Performers: Darrell Scott & Tim O'Brien, Sarah Jarosz, Old Man Luedecke, The Deadly Gentlemen, and ETSU Old-Time Pride Band
Call Birthplace of Country Music® for more information: 423-573-1927.br