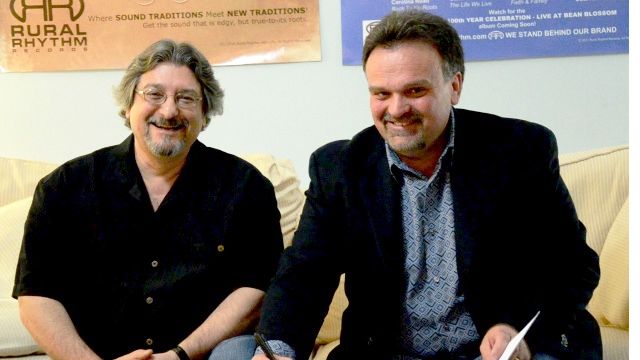 Nashville, TN -- Rural Rhythm Records is proud to announce it has signed a long-term recording and production agreement with Steve Gulley. The first album will be a gospel album titled Family,Friends & Fellowship, and is scheduled to be released in the first quarter of 2014. Guest artists on the album include; Ricky Skaggs, Doyle Lawson, Kenny & Amanda Smith, Joe Mullins, Tim Surrett, Phil Leadbetter, Les Butler, Mark Wheeler, Don Gulley, Debbie Gulley, Brad Gulley and more. Steve says, "I have felt the need to record an all-gospel project for a long time now. I have always looked at my music as a ministry and an extension of my faith so I'm so excited to finally have the chance to see this come to fruition in the making of Family,Friends & Fellowship.
Gulley is hard at work producing other new projects for Rural Rhythm including the second from Harlan County, KY based, Cumberland River. The group's music has been featured in several episodes of the hit FX TV series Justified. Cumberland River includes the talents of Jamie Dean, Dustin Middleton, Brad Gulley (Steve's son), Jamie Stewart and Gary Robinson, Jr. Gulley is also finishing up the debut album by the bluegrass gospel group Crosspoint on Rural Rhythm Christian, scheduled for released in early 2014, and the follow-up to the critically acclaimed album God Didn't Choose Sides, also scheduled for a 2014 release.
Gulley has been a part of the Rural Rhythm family for many years. His friendship with the label goes back to Steve's days with Mountain Heart and kicked off with the Rural Rhythm release of his collaborative album Dogwood Winter with Tim Stafford in 2010. The album contained two radio songs, "Just Along For The Ride" and "How Did That Turn Info My Problem", both reaching high on the Bluegrass Unlimited song chart. In 2011 Rural Rhythm released Grasstowne's third album, Kickin' Up Dust, featuring Steve as a founding member of the group. The album produced two successful radio songs, the title track and "Blue Rocking Chair". Both songs landed high on the Bluegrass Unlimited song chart.
Gulley also produced and was a featured artist in the Holiday TV show Christmas the Mountain Way released last year on CD / DVD from Rural Rhythm Christian. The one hour Holiday TV show was broadcast nationally on BlueHighways TV and will air again on the cable network this season. Other featured performers on this Holiday TV show included; Dale Ann Bradley, Marty Raybon, Audie Blaylock and host / performer Mike Scott.
Released on Lincoln's birthday this year, Gulley produced, wrote and performed on the Civil War themed album "God Didn't Choose Sides" which contained original songs about Civil War true life stories by top songwriters Mark Brinkman, Paula Breedlove, Mike Evans, Ray Edwards, Terry Foust and Tim Stafford. The recording featured vocal performances by Marty Raybon, Russell Moore, Dale Ann Bradley, Ronnie Bowman, Lonesome River Band, Bradley Walker, Rickey Wasson & Dwight McCall and musician performances by Adam Steffey, Ron Stewart, Justin Moses, and Mark Fain.
"Steve Gulley has been a big part of Rural Rhythm's success over the past years contributing his talents on many important album projects for the label. It a been an absolute joy and privilege to be working side by side with Steve over the years to create a string of very successful album projects that I know music fans have enjoyed all over the world. We are very excited to be a part of Steve's music family now and in the future and look forward to all the creative music this highly talented singer, songwriter and producer will grace us with over the years", commented Sam Passamano, II – President / CEO of Rural Rhythm Records
"I am so proud to have been a part of the Rural Rhythm family for sometime now so the signing of the long term recording and production agreement was an easy decision for me. I have such a great relationship with the Passamano family and all the folks at the label. They've always given me the trust and creative freedom needed to make the best possible music I can and their friendship is invaluable. I'm looking forward to being here with Rural Rhythm for years to come."
Steve is currently on tour performing with Dale Ann Bradley. For more information on go to http://Stevegulley.com [1]