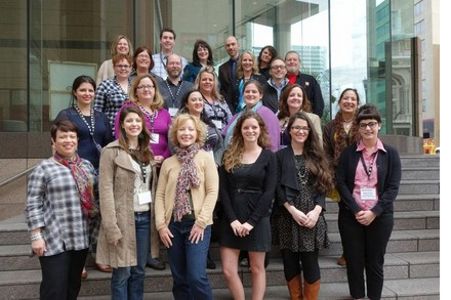 Nashville, TN -- /IBMA/ With the application deadline of Friday, November 15 fast approaching, you will probably be hearing quite a bit about Leadership Bluegrass 2014 from your well-connected bluegrass friends. If you're a LBG alumni, you already know what a great career-enhancing experience that Leadership Bluegrass can be. And if you're thinking of applying, step up and get busy! It's one of the most enjoyable and beneficial educational experiences centered on bluegrass music that you could possibly hope to find. 2013 Leadership Bluegrass Class pictured
The International Bluegrass Music Association (IBMA) hosts the Leadership Bluegrass class for 2014. Leadership Bluegrass is an intensive, three-day program focused on interactive learning and networking experiences that invite participants to examine the challenges and opportunities facing the bluegrass music industry, along with leadership development issues. This will be the 16th year of Leadership Bluegrass, which now boasts over 300 alumni.
And what might you expect to learn as part of the Leadership Bluegrass experience? Plenty. One of the most interesting things that the class does is to engage in a systematic review of the business of bluegrass and its various institutions and organizations – with a detailed discussion of their needs, problems, and resources.
So what is Leadership Bluegrass, anyway? It's a three-day program (scheduled for March 20-22, 2014 at BMI in Nashville) that is designed to bring together a diverse cross-section of people with a wide range of perspectives on the bluegrass industry for a group discussion and educational experience. This is the place for people who have demonstrated, or are highly motivated to demonstrate, leadership in one or more areas of the bluegrass community. Applicants are carefully selected so that each class has a full and diverse representation of the functional areas of our industry – such artists, composers, publishers, record labels, publishers, broadcasters, luthiers, publicists, managers, agents, event producers, and more. Each class also has a geographically diverse group of participants that includes students from all regions of the United States as well as abroad.
Because each class is unique, each discussion is unique – the perspectives that you bring to the table offer insights to your classmates. And one of the most exciting things you enjoy as part of the class is the opportunity to sit in a small-group setting with a wide variety of the leaders and notable figures in our industry. Just this past year, the class enjoyed getting to hear (and getting to know) prominent bluegrass and industry personalities including Sonny Osborne, Al McCree, Jay Frank, Jon Weisberger, Alison Brown, Garry West, Stephanie Taylor, Ben Surratt, Missy Raines, Peter Cooper, Craig Havighurst, and many others.
You definitely won't get bored with the range of discussion topics at Leadership Bluegrass. Over the past few years, classes have heard from music industry leaders (and enjoyed active group discussions) on topics including the study and application of leadership principles, entrepreneurship, a profile of bluegrass music consumers, the development of an artist's career, copyright law and its application to the music business, new trends in the presentation of live music, the latest techniques for the digital distribution of music, using social media to add fans and increase attendance at live musical events, and much more. If you want to become more effective at managing your corner of the bluegrass world, Leadership Bluegrass is the place to be.
And of course you will make a lot of new friends, and maybe even get to jam! You will get to know a lot of new people over your three days at Leadership Bluegrass experience, and many of those people will become new friends and professional contacts. An expanded network is one of the most important things you can gain from the Leadership Bluegrass experience.
So get busy and send in your application! Remember that the selection committee works to build a class with a wide range of perspectives on the industry, so don't be discouraged if you aren't picked the first year you apply – or even the second or third. It may take you a few tries to get in, but there's no doubt that it's worth the effort. Apply today!