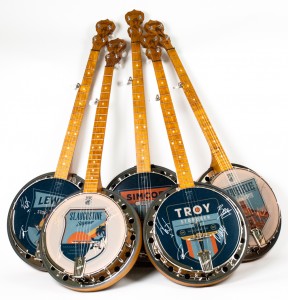 The Deering Banjo Company raised $25,777.68 for charity this summer through the auctioning off of one of a kind Deering Goodtime Gentlemen of the Road banjos signed by Mumford and Sons. A different banjo was made for each Gentlemen of the Road Stopover date. There were five banjos in total, each bearing the location's name as well as signatures from all four members of the band.
The money from each auction was donated to a local charity, hand picked by the band for each concert location – Lewes, UK; Simcoe, Canada; Troy, OH; Guthrie, OK; and St. Augustine, FL.
The charities that were donated to were as follows:
The Oyster Project – Lewes, UK
Norfolk Association for Community Living – Simcoe, Canada
Corner Cupboard Charities of Greater Dayton, Inc. – Dayton, OH
Logan Community Services – Guthrie, OK
Communities In Schools of St. John's County – St. Augustine, FL
Throughout the summer, the Deering Banjo Bus has been traveling across the country to all of these events and giving free banjo lessons. Recently, the BanjoBus was in Raleigh, NC for the International Bluegrass Music Association (IBMA) annual conference and awards show.
The Mumford & Sons Gentlemen of the Road tour was also held last year with a resounding success. This year's program with Deering Banjos proved to be another success. Deering Goodtime and Mumford & Sons made a good time for the charities involved.