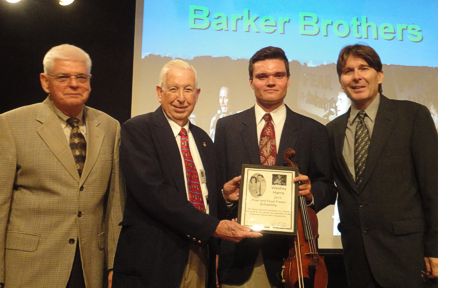 The Share America Foundation, Inc. announced its third 2013 scholarship winner recently at its Sacred Sounds Fridays concert at the Ringgold Depot in Ringgold, Ga. Fiddle player Westley Harris of Copper Hill, Tenn. was selected as one of the 2013 winners.
Westley is a sophomore at East Tennessee State University studying to be a music educator. He is graduate of Copper Basin High School in Polk County. Harris has played fiddle for seven years and also plays Irish flute, guitar, bass, mandolin, viola, and saxophone. He performs regularly with The Barker Brothers. The group's latest CD is "Driven." For more information about The Barker Brothers, visit barkerbrothers.com.
"I am really grateful for the recognition of the Share America Foundation," he said. "I hope to carry on the traditions of Appalachian music through my teaching."
The events help fund the organization's Pearl and Floyd Franks Scholarship. Pearl and Floyd Franks are the late parents and former entertainment managers of actor/entertainer Randall Franks, "Officer Randy Goode" from TV's "In the Heat of the Night." The scholarships honor students excelling in the Appalachian musical arts.
"We were honored to present a $500 scholarship to assist him as he continues his college studies," said Share America Chairman Joe Turner.
Franks said that while the organization normally presents rising freshman, it had no regional applicants this year. He noted, "Westley is an exceptional fiddler and brings with him a great deal of excitement in his craft," he said. "I know that enthusiasm will be shared with all that he comes in contact with throughout his career."
Harris is the son of Terry Harris and Jeri McConnell of Copperhill, Tenn. He is the grandson of James and Shirley Harris of Copperhill, Tenn. and Sue and the late Van Dilbeck of Copperhill, Tenn.
Share America Foundation Board members include Franks, Turner, Gene Lowery, vice chairman; James Pelt, secretary; and Jerry Robinson, Sr., vice president; and Adam Cathey.
The next Sacred Sounds Fridays is Nov. 8, 2013 at 7:30 p.m. featuring the Jeff Hullender Family and a special guest at the Ringgold Depot. Admission is a $5 donation. Franks will host the event.
For more information about the organization and its programs, contact Share America, P.O. Box 42, Tunnel Hill, Ga. 30755 or visit www.ShareAmericaFoundation.org [1] or http://www.MySpace.com/ShareAmerica [2].