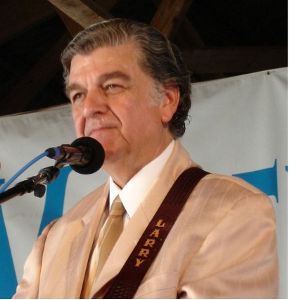 Great Mills, MD -- Bluegrass for Hospice-2013 will be held on Saturday October 26. Not only is the event celebrating its 5th year, but headliner, Larry Sparks is celebrating his 50th year in Bluegrass music. Bluegrass for Hospice-2013 will be held at the Flat Iron Farm in Great Mills, Maryland. It is located on Flat Iron Road just 1.5 miles from MD Route 5. The event begins at Noon with gates opening at 11:00 am. All proceeds for the day go to support the Hospice House of St. Mary's County.
This year will be bigger and better than ever with 2 headliners and the rest of the day filled with local entertainment. Alongside of Rebel Recording Artist Larry Sparks will also be Junior Sisk & Ramblers Choice who records for the same record label. It will be a Rebel Bluegrass day! Local Bluegrass talent will include Jay Armsworthy & Eastern Tradition (event promoter & coordinator), Charlie Thompson & Bottom County Bluegrass, Bubby Abell & Spoon Creek, and Bluegrass Gospel Express. The always popular, Gracie's Guys and Gals Dancers will do a short dance performance to Bluegrass music, and 15 Strings. Troy Jones will provide the sound for the day.
He started his Bluegrass career in 1963 as guitarist with the Stanley Brothers and later became lead vocalist for Ralph Stanley and the Clinch Mountain Boys. Larry went on to form his own band in 1969 (the Lonesome Ramblers). He has recorded and toured with his band for over four decades, releasing over 60 albums and delighting countless fans with his soulful vocals and unparalleled musicianship.
Larry has performed on such world famous venues as the Grand Ole Opry and television shows including Austin City Limits and Song of the Mountains. Also having toured the United States, Canada and Japan, Larry has been recognized as the International Bluegrass Music Association's (IBMA) Male Vocalist of the Year. He also was awarded Album of the Year and Recorded Event of the Year with his Album, "40".
As quoted by Alison Krauss: "Larry Sparks is bluegrass music's Ray Charles, no one can touch him. He is an absolute original". While Sparks is most defiantly a stylist, his approach to the music is more than a style. It is real with no gimmicks. "Sparks' style" is mature, seasoned and deeply expressive. Throughout his long career Larry has stuck with what works. He has followed his vision and he has made an enormous contribution to the music. In a world that's gone fake, Larry Sparks is a true stylist, keeping it real.
Also headlining from the Blue Ridge Mountains of Virginia comes one of Bluegrass music's most honest voices in the genre's history, Junior Sisk. Over the years, his haunting, almost lonesome vocals have earned him the devotion of countless traditional Bluegrass fans from all over the world. His songwriting talents helped the Lonesome River Band make their ascent into bluegrass stardom in the early 1990's. In 1998, Sisk formed Ramblers Choice and together, they recorded and released their first solo project titled, "Sounds of the Mountains". Nominated numerous times for Male Vocalist of the Year by the International Bluegrass Music Association (IBMA) and Society for the Preservation of Bluegrass Music in America (SPBGMA), Junior Sisk is at the top of his game and has surrounded himself with a top notch band of musicians including Jason Tomlin on bass and vocals; Chris Davis on mandolin and vocals; Billy Hawks on fiddle and vocals; and Jason Davis on banjo and vocals. Junior Sisk & Ramblers Choice received SPBGMA's Album of the Year Award for "The Heart of a Song". Junior also received the Contemporary Male Vocalist of the Year Honor for 2013. "A Far Cry from Lester and Earl "was named SPBGMA's 2013 Song of the Year.
Throughout the day on October 26, will be other exciting things like 50/50 raffles, a $500.00 money raffle, door prizes, and a popular silent auction. There will be food available for sale provided by the 3rd District Optimist Kruzin' Kafe and alcohol is BYOB. The event is held inside at the closed and covered arena which is handicap accessible and portable bathroom facilities are located outside. Non-perishable food items will also be collected for the Helping Hands Food Pantry in Hollywood, MD.
Tickets are $25.00 in advance and $30.00 at the door. To purchase tickets in advance send a check or money order payable to "Hospice of St. Mary's" along with a self-addressed stamped envelope to P.O. Box 741, California, MD 20619. The deadline for advanced tickets to be mailed is October 19, 2013. You can also get them instantly online through Ticket Derby by going to http://www.BluegrassForHospice.com/4 [1] or by phone at 1-888-663-3729. Children under 12 are admitted for free with a paying adult. Country Inn and Suites of California, MD is offering special rates for Bluegrass for Hospice-2013 attendees. Just call them at 301-737-5227. For more information, call 301-737-3004 or go online at www.BluegrassForHospice.com [2].
Last year Bluegrass for Hospice raised nearly $24,000.00. With your help, we hope to reach past that goal this year.