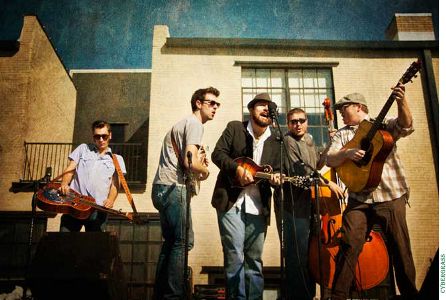 With deep roots planted in Colorado, and a love for the state and people sowed over years, The Hillbenders have announced they will be hosting the Foothills Flood Relief Benefit - Working Together to Help Colorado's Front Range, on Thursday, Oct. 24 at George's Majestic Lounge in Fayetteville, AR. The benefit will include special guests, the Cindy Woolf & Mark Bilyeu Band featuring Jody Bilyeu (of Big Smith). Together they hope to bring more light, hope, and support to a place with people that means so much.
"We are all passionate about Colorado," said Nolan Lawrence, mandolinist for The Hillbenders. "Our family, friends, and fans live there. We are directly linked to the people who have been affected," he continued. "There are people's houses we've stayed at that are gone and many others impacted. People who have helped us and supported us. Our hearts hurt for them," he shared.
The benefit will include a Silent Auction, offering attendees another way to be involved. There will be a variety of donated items to bid on, big and small, including music, merchandise, memorabilia, and more. All proceeds raised through the benefit will be going to the Foothills Flood Relief Fund through Foothills United Way, located in Lafayette, CO.
"This fund is currently providing immediate relief through the Disaster Assistance Centers," said Heather Spencer, Communications Manager of Foothills United Way. "It is enabling communities like Jamestown, Lyons, Boulder and Longmont to recover. Long-term we work to strengthen the fabric of the community with regard to education, financial stability, health, and basic needs for Boulder and Broomfield counties."
The Daily Camera newspaper in Boulder reported on Sept. 24 that "the 100-year flood that swept across Colorado's Front Range this month damaged nearly 4,000 homes and caused at least $91.2 million in damage to government facilities, roads, and bridges in unincorporated Boulder County alone."
Boulder County Commissioner Deb Gardner told the Daily Camera, "Obviously we can't put a dollar value on the lives we lost, and this doesn't begin to reflect the personal side of the story. But it was an attempt to put a dollar value on structures and the physical devastation."
With hearts as big as their vocal harmonies, The Hillbenders hope that by working together as a community and a country, a bigger difference can be made. "I hope that our benefit will generate additional support and funds to be used where it's needed most and for those in need across the Front Range," said Jim Rea, guitarist for The Hillbenders. "I also hope it helps create more awareness of helping your fellow man when they are in their darkest days," he said.
Financial donations may also be made directly to the Foothills Flood Relief Fund, which has been made possible by the Foothills United Way. The Foothills Flood Relief Fund was established in response to the impact of the severe flooding across Boulder and Broomfield counties, focusing on health and human services. 100% of the donations to this fund go directly to flood relief and recovery efforts. All underwriting and administrative costs have been paid for by the generosity of the community friends and partners of Foothills United Way.
From Springfield, MO, The Hillbenders are an aggressively energetic acoustic quintet at the forefront of an alt-grass revolution. They are Nolan Lawrence on mandolin, Jimmy Rea on acoustic guitar, Chad Graves on dobro, Mark Cassidy on banjo, and Gary Rea on upright bass.
Learn more about The Hillbenders at www.hillbenders.com [1].