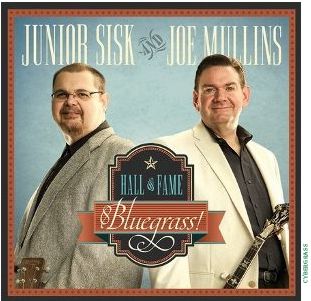 Charlottesville, VA -- Though Joe Mullins hails from Southwest Ohio and Junior Sisk grew up hundreds of miles away in Southwest Virginia, their mutual love of classic bluegrass music and its creators connects them like long lost brothers. It is only fitting that these two men should join together to honor the mentors whose work and sacrifices paved the way for their own rise to the top. They do just that, and more, with Hall of Fame Bluegrass! – a tribute to members of the IBMA Hall of Fame.
Joe Mullins says, "To sing and play music I love with Junior Sisk - what a soul! Our shared passion for first and second generation Bluegrass has inspired us to record this collection of songs. Some are old favorites, others are rare gems..."
The idea for Hall of Fame Bluegrass! was hatched after Joe joined Junior for a powerful duet on the Stanley Brothers classic "Lover's Quarrel" from the latest Ramblers Choice CD, The Story of the Day That I Died, released earlier this year. Excited by their shared passion, the two began selecting songs and assembled a stellar band of like-minded pickers, all of whom are IBMA award winners themselves: Dudley Connell on guitar, Jesse Brock on mandolin, Jason Carter on fiddle, Marshall Wilborn on bass, and Rob Ickes on Dobro.
"I am very honored to record a project with such a talented and wonderful person as Joe Mullins, as well as these great musicians who shared their talents with us. They are some of my favorite. We hope this recording makes our pioneers in the bluegrass world proud!" commented Junior Sisk.
The two 2012 IBMA Award-Winners Junior Sisk & Joe Mullins are combining their talents and their love of traditional bluegrass music in this superb tribute to their First Generation Heroes.