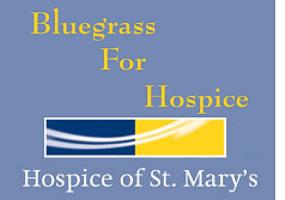 Headlining this year's Bluegrass for Hospice will be Larry Sparks, celebrating 50 years in Bluegrass entertainment, along with Junior Sisk & Ramblers Choice, a Rebel recording artist. The event will be held on Saturday October 26, 2013 at the Flat Iron Farm in Great Mills, Maryland. Bluegrass for Hospice is a one day music festival and a family oriented event that is a fundraiser for our local Hospice House of St. Mary's County.
Last year Bluegrass for Hospice-2012 raised $23,000.00 with a $2,500.00 increase from the previous year. In its 5th year of success, this event has grown to be the largest fundraiser for our local Hospice of St. Mary's. The event was inspired by Jay Armsworthy when his 2 Grandfathers past several years ago. The mission of Hospice is to provide physical, emotional, and spiritual support to terminally ill patients and their families and bereavement care to those families and the community. Hospice of St. Mary's is a 501 (c) 3 organization.
The event begins at Noon – 8:00 pm with doors open at 11:00 am featuring the Bluegrass music of Larry Sparks-"Celebrating 50 Years in Bluegrass Music" and Junior Sisk & Ramblers Choice. Other local area bands to perform are: Bluegrass Gospel Express, Jay Armsworthy & Eastern Tradition, Charlie Thompson & Bottom County Bluegrass, Bubby Abell & Spoon Creek, 15 Strings, Gracie's Guys and Gals Dancers and Troy Jones doing the sound.
There will be 50/50 raffles, door prizes, silent auction, and many vendors. Food will be available for sale and it's BYOB. Event held inside. Tickets are $25.00 in advance, $30.00 at the gate, children under 12 free with a paying adult.
To order by mail: Send check or money order payable to "Hospice of St. Mary's"; include a self-addressed stamped envelope and Mail to: P.O. Box 741, California, MD 20619. Deadline is October 19, 2013. To purchase by credit card: Call 1-888-663-3729 or online at www.BluegrassForHospice.com/4 [1]. For More Information: Call 301-737-3004 or go to www.BluegrassForHospice.com [2]. All Proceeds go to support the Hospice House of St. Mary's County Maryland.