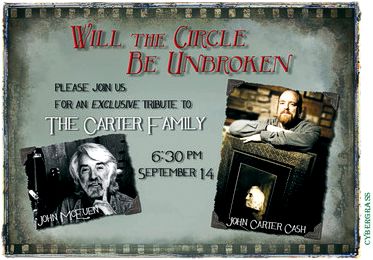 The Birthplace of Country Music (BCM) proudly announces an exclusive event on September 14, 2013, at 6:30 p.m. at Theatre Bristol: Will The Circle Be Unbroken. The evening is a tribute to The Carter Family and will be hosted by John McEuen and feature John Carter Cash and family. The Will The Circle Be Unbroken concert event takes place September 14, 2013 at 6:30 PM at Theatre Bristol in downtown Bristol, TN/VA. There are only a few days left to reserve your tickets.
Come celebrate the Nitty Gritty Dirt Band's landmark Circle Album and join the story of The Carter Family. Cash will share his family history through music, narrative, and photos. You will be given the rare opportunity to enjoy cocktails and heavy hors d'oeuvres with our featured guest artists in an intimate concert setting.
Tickets are $75.00 per person. Seating is limited. Call today to reserve your seat: (423) 573-1927. All proceeds benefit Birthplace of Country Music® Museum's programs and exhibits.
Met by international critical acclaim as a modern classic upon its release, the Nitty Gritty Dirt Band's "Will the Circle be Unbroken" features a who's-who of bluegrass, folk, and blues luminaries as primary and guest artists, including Mother Maybelle Carter, Roy Acuff, Doc Watson, Earl Scruggs, Merle Travis, Jimmy Martin, and others, as well as compositions by Acuff, Scruggs, Travis, Martin, Hank Williams, and Joni Mitchell, among others. The album crossed genre lines, uniting fans of country and rock music in widespread appreciation, peaking at #4 on Billboard's Country chart and at #68 on the Billboard 200 Albums chart.
"We were all students of records coming from the bluegrass/folk/blues world, even prior to the Nitty Gritty Dirt Band's birth in 1966," writes McEuen in his essay for the album's 40th Anniversary Edition [1]. "This mysterious mix of music, culture and generations is what made 'The Circle' a possibility."
Recorded live over six consecutive days at Woodland Sound Studios in Nashville, "Will the Circle be Unbroken" is a timeless feat of studio collaboration, bringing together accomplished country songwriters and musicians from two generations for a cohesive album that is both steeped in tradition and pioneering in its form, ushering in the new Americana style and remaining a font of musical influence to this day. In 2005, the album was selected for the National Recording Registry by the Library of Congress, joining an esteemed group of essential American recordings which "are culturally, historically, or aesthetically important, and/or inform or reflect life in the United States."
The Bristol Sessions done in 1927-1928 are considered The Big Bang of Country Music. The Birthplace of Country Music in Bristol, TN/VA holds the honor of hosting that grand event. "Johnny Cash once said that the Bristol Sessions are the single most important event in the history of country music," says Birthplace of Country Music Alliance Board President John Rainero. "It's amazing that those recordings are still having an impact, even today."
The Carter Family is definitely in the center of this birth and explosion. Alvin Pleasant "A.P." Delaney Carter, his wife Sara Dougherty Carter, and his sister-in-law Maybelle Addington Carter comprised the original Carter Family. They recorded from 1927, beginning at the Bristol Sessions, and continued through 1956. It was Mother Maybelle's guitar playing that created the distrinctive sound of The Carter Family.
Because the circle seems to encompass the Nashville album recording and the Carter Family histories, it is fitting that this takes place in Bristol. John McEuen is well recognized as a historian on both music events and is an accomplished artist and multi-instrumentalist as well. This should be an evening and an event to remember.