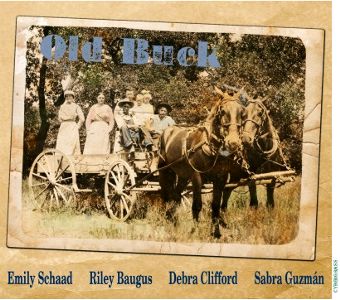 A collaboration of four red-hot players, Old Buck makes its home at the convergence of Southern old time and bluegrass traditions, making music that "just feels right." With the talents of Riley Baugus, Debra Clifford, Sabra Guzmán, and Emily Schaad, this all-star stringband combines a love of old time traditions with a fresh new take – plenty of singing, layered arrangements, and influences from punk to vintage Americana to gospel. While the players overlapped in their interests and projects prior to forming Old Buck, the band itself was born as one of those edge-of-your-seat, time-of-your-life jam sessions that take flight and never quite come back down. Now the band has poured all that passion and enthusiasm into their debut self-titled album. With each member an acclaimed artist in their own right, it's no exaggeration to say that Old Buck is a supergroup of Southern roots musicians.
At the forefront of the next generation of American roots music, Blue Ridge Mountains master Riley Baugus brings a deeply rooted connection to Appalachian landscapes and soundscapes and a virtuosic talent on the clawhammer banjo. He was born into Appalachian roots traditions, growing up steeped in Baptist congregational singing, mountain ballad and banjo traditions, and his father's beloved Doc Watson record collection. Riley perfected his craft the old fashioned way: building his first banjo out of scrap lumber and learning tunes at the knee of elder musicians including Chester McMillian, Paul Sutphin, and the great fiddler Tommy Jarrell. His grassroots approach to American musical history has won him fans in Hollywood and Nashville alike: Riley contributed both his handmade instruments and his authentically raw, rich vocals to the soundtrack of Academy Award-winning film Cold Mountain and performed with T-Bone Burnett, Allison Kraus, and Robert Plant on the Grammy Award-winning, multi-million selling album Raising Sand.
Guitarist and mandolinist Debra Clifford comes by way of acclaimed harmony duo The Lonesome Sisters, and brings her plaintive, powerful vocals as well as her deep knowledge of old-time, bluegrass, and folk genres. An in-demand collaborator, Debra has played along side bluegrass legends including Alice Gerrard and Hazel Dickens, Laurie Lewis, Mike Marshall, and Darol Anger, and toured with Ginny Hawker & Tracy Schwarz.
Young traditionalist Sabra Guzmán brings her rock-steady bass and rhythm guitar skills, unique vocal stylings, and vibrant stage presence to the lineup. Her rhythmic chops draw from a wide range of influences, from post-punk drive to honky-tonk swing, and fuse into her own neo-traditional style, which she's honed in her work with Old Sledge, The Flat Iron String Band, and The Crooked Jades.
Championship fiddler Emily Schaad took first place at the 2012 Clifftop Appalachian Music Festival with her elegant and inventive playing. A passionate ambassador of roots music and a student of elder fiddlers Benton Flippen and Clyde Davenport, Emily also runs a music school in upstate New York and directs a group of teenage fiddlers, keeping her on the cutting edge of new directions in fiddling.
On their debut album, Old Buck [1] rings with the sounds of the mountains. It's a perfect blend of old time with new stylings, melancholic sparsity with raucous riffs, and four masterful musicians who just can't keep their joy at playing music together to themselves.