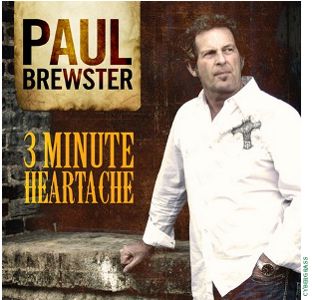 Long time Kentucky Thunder member Paul Brewster is set to release his new CD, 3 Minute Heartache on September 10th! The new CD features 10 new original country songs written by Paul. "This is a great country album" says Nashville music icon Bob Tubert. The album features something for everyone; The bluegrass fan favorite "Bluegrass Melodies"...the western swing "Hillbilly Blues", the rollicking "Too Country", the poignant and haunting "Dad's Guitar", the humorous ode to the internet, "Love On Line", and among others, the wistful title cut, "3 Minute Heartache". Brewster's vocal skills are legend... and now... finally exposed... his song-writing genius.
"3-Minute Heartache" is Paul Brewster's second solo project, featuring 10 of Paul's original songs. Singing alongside Ricky Skaggs for 18 years as a member of Kentucky Thunder, Paul is one of Nashville's most respected artists. Paul's music career includes 10 years with The Osborne Brothers and a brief stint with The Pinnacle Boys. Paul is originally from Knoxville, Tennessee.
Paul's crystal pure vocals and his exceptional songwriting skills have produced a product for the ages. According to Nashville icon Bob Tubert.
"Paul Brewster has been one of my favorite vocalists for over 20 years. His songwriting has evolved as one of his strong points as well. I have always known that Paul is one talented individual. Every chance I have had to sing with him has been a blast. I am sure you will enjoy his latest offering, it's great, it's Paul Brewster!!!" comments bluegrass artist Marty Raybon.