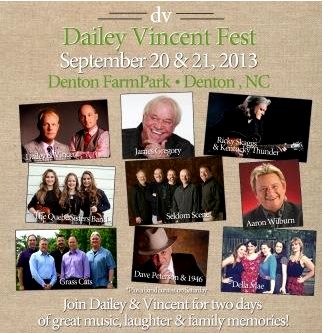 Join award winning bluegrass artists Dailey & Vincent a their Dailey Vincent Fest in Denton, NC September 20 & 21. The fest is two days of laughter, great music and family memories at the beautiful Denton FarmPark in Denton, North Carolina. Hosts, Dailey & Vincent, will be joined by Ricky Skaggs & Kentucky Thunder, Comedian James Gregory, Della Mae, The Seldom Scene, Comedian Aaron Wilburn, The Quebe Sisters, David Peterson & 1946, The Grass Cats and more.
Advanced ticketing ends very soon as the festival is less than 3 weeks away. Go online today [1] to secure your tickets and camping, or Call 336-859-2755. It's a great time to enjoy Denton, North Carolina and adding bluegrass music to the mix just makes it better!
Cindy Baucom, host of Knee Deep in Bluegrass, will be your announcer for the weekend. This is award winning, top notch, bluegrass by artists who live it every day. It just doesn't get any better.
Dailey & Vincent is one of the top Bluegrass bands in America. From the very beginning of their partnership in late 2007, Jamie Dailey and Darrin Vincent quickly established themselves as fresh voices in their genre. The concoction of their fantastically powerful vocal blends, 4 award-winning studio albums, and heavy touring schedules has gained them well-deserved attention from bluegrass, country, and gospel critics and fans alike.
Dailey & Vincent has been recognized as 3-time IBMA Entertainer of The Year, 3-time IBMA Vocal Group of the Year, 2-time Grammy nominee, and Dove Award winners. Equally at home with material from any of the aforementioned genres, Jamie and Darrin continue to expand on the possibilities of what kinds of music can become "Dailey & Vincent" music.
In a relatively short period of time, Della Mae has become a sensation in the music world. Commanding a powerful collective chemistry with vocal, instrumental, and songwriting talent to spare, the Boston-based combo mines time-honored elements to create music that's unmistakably fresh and contemporary.
The group quickly won an enthusiastic following through their high-energy live performances at festivals around the country. The band expanded its reputation with their self-released first album, 2011's I Built This Heart, which won an impressive amount of attention for a D.I.Y. release.
The Seldom Scene began as a non-touring bluegrass band back in 1971 in Bethesda, Maryland. The basement jam sessions at the home of Ben Eldridge started the whole thing. Who would have thought that 40 years later, this band would have become one of the single largest contributers to the progression of bluegrass from the early days of Flatt and Scruggs and Bill Monroe to the more contemporary sounds that they founded. Bluegrass reached a second peak in popularity in the early 1970s, and the progressive bluegrass style played by The Seldom Scene was particularly popular.
With 15 years of performances and eight very successful CD's, The Grass Cats are ready to expand their playing area and bring their lively foot-stomping fiddle and banjo music, bluegrass classics, tight vocal harmonies and acapella-style gospel quartets to your event. Mix in their "top of the chart" original music and down home humor and you'll have a performance your audience will not soon forget.
Other acts will be just as powerful and entertaining. Get your tickets now for a great two-day festival.