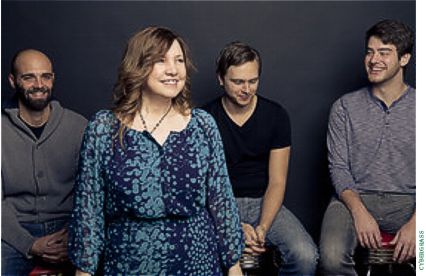 Nashville, TN -- Compass Records has just released two new albums for the month of August – New Frontier, the indie rock offering from award winning bluegrass music bass virtuoso Missy Raines and Elements, a refreshingly original Scottish folk album from Scotland's own Paul McKenna Band.
"Raines's voice, at times plaintive and pleading, fierce and blustery, really shines," says Deep South Magazine, also praising The New Hip's "Strokes-esque" guitar solos and effects, coupled with stripped-down mandolin and acoustic guitar. Highlighted as The Bluegrass Situation's August Artist of the Month, Raines finds her voice as an Americana bandleader with strong indie-rock undercurrents, while building on her bluegrass upbringing. She's a beloved musician in the bluegrass world as the 7-time International Bluegrass Music Award-winner for Bass Player of the Year, again nominated for the title in this year's IBMA Awards.
Says Raines; "It was really about boiling it down to what was most important to me in the world, and then finding the courage to go after it." She emphasizes the album's empowering message: Follow your heart. It will not be easy and it will not be painless, but if you do it, it is absolutely worth it.
Missy Raines will be on tour this fall with her band The New Hip promoting New Frontier, with southeastern performances at the International Bluegrass Music Association (IBMA)'s World of Bluegrass festival, The Station Inn in Nashville, and Mountain Stage in West Virginia, with a west coast tour to follow this October. View her full tour dates here.
Meanwhile, when the award-winning Paul McKenna Band picks up their native instruments of the bouzouki or bodrhan, they launch Scottish folk music into the 21st century with explosive arrangements and fiery vocals on trad and original songs and tunes alike.
LiveIreland calls Elements "a brand new tasty treat…Sensational!" and TradConnect says, "Their tight-as-roofing-nails arrangements, adventurous choice of songs that will stick with you, and hell-for-leather instrumental tune playing really reminds me of the best parts of Solas…Paul's voice is powerful and beautiful, but also filled with a kind of charisma that makes you sit up and take listen."