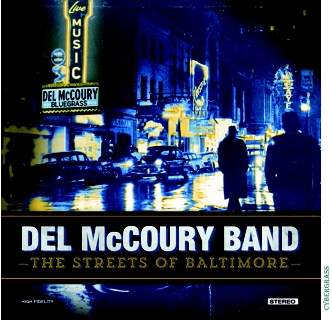 Bloomington, IL -- "The picture on the cover, that's Broadway in Baltimore, maybe back around the time I started playing in the clubs," Del McCoury says with a smile. Then he adds, just before breaking into his signature, eyebrow-wiggling laugh, "Back then, you could get anything you needed down there—and a lot of things you didn't need, too!"
It's a long way from his apprenticeship in those Baltimore honky tonks in the late 1950s to his stature as the ultimate bluegrass ambassador today, but Del McCoury's negotiated the path with enough perseverance, humility, good humor, adventurousness—not to mention talent and enthusiasm—to last a lifetime. Along the way, he's earned not just the applause, but the passionate devotion of fans ranging from old-timers who remember those early days to country aficionados drawn in by his collaborations with Dierks Bentley, Charlie Daniels and Vince Gill to tie-dye-clad youngsters who've just learned about him from hearing artists like Phish and the Yonder Mountain String Band rave about—and perform—his music.
And lest you think that the open-mindedness that's led McCoury into so many surprising collaborations and contexts comes from the younger generation, heed the words of Ronnie McCoury, who says of The Streets of Baltimore, "That one's all Dad's!" And indeed, with sons Ronnie and Rob and their Del McCoury Band colleagues Jason Carter and Alan Bartram spending more time touring as The Travelin' McCourys, the job of choosing songs for the album fell squarely on Del's shoulders—and judging by the results, it's clear that Del McCoury's as creatively inspired as ever.
Where the Del McCoury Band's last two projects—2012's tribute to Bill Monroe (Old Memories) and 2011's collaboration with the Preservation Hall Band, American Legacies —were built around themes, The Streets of Baltimore shows McCoury and his award-winning band at their most relaxed and free-form. "I just put together a group of songs that I liked," says Del. "And then we got into the studio and tried to make them sound good!"
Still, it's not hard to see how the new album is shaped by the musical memories acquired and lessons learned starting back in McCoury's Baltimore days. For one thing, as a reminder of how tightly entwined bluegrass and country music were at the time, there's a healthy dose of songs from the country repertoire, including the title track (a 1966 country hit for Bobby Bare), "Too Many Rivers" (a crossover hit for Brenda Lee in 1965 and recorded by dozens of country singers at the time) and "Once More With Feeling," a massive hit for Jerry Lee Lewis that reminds us that McCoury and his band were called on to perform when "The Killer" was honored in the Rock and Roll Hall of Fame's American Music Masters series a few years ago. And while pop and jazz fans know "Misty" as an entry in the "Great American Songbook," Del and the boys give an affectionate nod here to country singer and humorist Ray Stevens, whose banjo-driven version of the song scraped the top of the country charts nearly 40 years ago.
But while there's a lot of looking back on The Streets of Baltimore, McCoury turned to some favorite contemporary writers, too, to keep things grounded in the here and now. Long-time song supplier Mike O'Reilly is accounted for with the album's opener, Shawn Camp and friends sent in the timeless waltz, "I Wanna Go Where You Go," occasional co-writer Jerry Salley teamed up with Donna Ulisse for a gripping Civil War story and Verlon Thompson contributed the pensive meditation, "I Need More Time." Del expands the circle, too, giving hit artists and songwriters Larry Cordle and Steve Wariner, along with Country Hall of Famer Bill Anderson, their first McCoury cuts. There's even room for a McCoury original that sports a characteristically generous, upbeat take on a fundamental gospel message.
Yet if McCoury cast a wide net to haul in the songs for this album, the performances are as distinctive, and as tightly focused as ever. Years of constant musical companionship have made the Del McCoury Band among the most renowned ensembles in any kind of music, and every number on the album shows off their unmatched precision and empathy for the material. Meanwhile, Del's magnificent voice soars, whispers, pleads and rings out with just the right feeling for each song, recalling Jerry Lee Lewis's slippery ways on "Once More With Feeling," coloring the opening lines of "Butler Brothers" with foreboding and injecting the slightest tinge of nostalgia in tackling a bluegrass reworking of a doo-wop classic from his youth.
All in all, then, The Streets of Baltimore is a masterful performance—exactly what one would expect from a close-knit, supremely talented group led by a man universally acknowledged as a national treasure. It's a long way from the streets of Baltimore to where Del McCoury's music has taken him these days, but today, just as he was then, Del McCoury is right where he needs—and wants—to be.