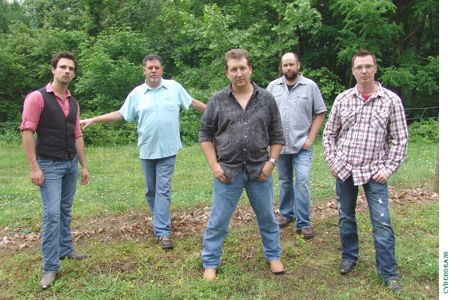 Gettysburg, PA -- The all-star band, Sideline was added to the Gettysburg Bluegrass Festival lineup last week. Sideline, with Steve Dilling (banjo/vocals), Skip Cherryholmes (guitar/vocals), Darrell Webb (mandolin/vocals), Justen Haynes (fiddle) and Jason Moore (bass) will perform on Thursday, August 15, at 5 p.m. and 9 p.m.
"So excited to play Gettysburg again! I've been there many times with my family in years gone by, and I know that Sideline will add their part to the highly entertaining variety of musical prowess Gettysburg brings with every festival," said Skip Cherryholmes.
Sideline just release their first recording project SIDELINE Session 1 on Mountain Fever Records in July 2013.The album features each player's talents on songs such as "Loneliness & Desperation," "Little Willie," "What Made Milwaukee Famous," "Goodbye To The Blues," "Old Joe Clark Blues," "Girl At The Crossroads Bar" and "Sophronie." This group of all-star artists each tour with their own primary bands and decided to record together in the same manner as Mashville Brigade and the Bluegrass Album Band.
Members of Sideline will travel to Nashville, Tennessee, to the Sirius XM studios to record a Track by Track show with Kyle Cantrell on Bluegrass Junction, Track 61, August 21.
Sideline is a high-energy all-star bluegrass band. Members of the band each tour with their primary groups and record and tour with Sideline on the side. Visit Sideline online for more tour dates. www.Facebook.com/SidelineBluegrass [1] Watch Sideline YouTube video.
Sideline Members:
Steve Dilling--banjo (tours with IIIrd Tyme Out)
Skip Cherryholmes--guitar (tours with The Skip Cherryholmes Quintet and Lou Reid and Carolina)
Darrell Webb--mandolin (tours with the Darrell Webb Band)
Justen Haynes--fiddle (tours with IIIrd Tyme Out)
Jason Moore--bass (tours with Mountain Heart)