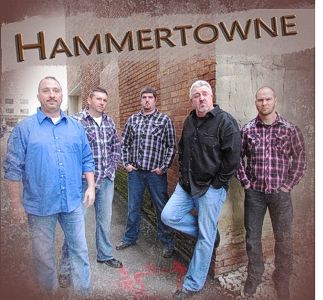 Hammertowne is proud to announce that effective immediately, they proudly endorse and play using GHS strings. GHS strings, have been the choice of world class musicians everywhere for many years, and Hammertowne is certainly proud and excited to be a part of the GHS family of artists. Hammertowne is a five man group that originates in the "cradle of bluegrass music" of the Eastern Kentucky foothills. Bluegrass artists are demanding on their sound and their music performed on acoustic stringed instruments. The strings are certainly a significant element in achieving the artist's desired sound.
While relatively new as a unit, this is a well-seasoned and talented group of performers who can lay claim to performing with some of the finest talent in bluegrass music throughout their careers. Band members include Scott Tackett on guitar/vocals, Brent Pack on banjo, Chaston Carroll on mandolin/vocals, Doug Burchett on bass/vocals and Dave Carroll on guitar/vocals. Carroll is widely admired for his songwriting prowess within the group and with others. He has new cuts on albums by Grasstowne (Featuring Ronnie Bowman), Junior Sisk and the Ramblers, Russell Moore& IIIrd Tyme Out and more.
From its inception, the group's identity has been defined by a hard-driving style of bluegrass that combines unique instrumentation with a distinctive knack for weaving vocal harmonies. Hammertowne creates their hard driving sound with one foot in the traditional arena to honor those who paved the way before them, and the other in the progressive arena as reflected in their many original songs they write and perform.
One of bluegrass music's most prolific songwriters, Larry Cordle says, "Upon hearing Hammertowne for the first time I thought holy cow! These guys ain't kiddin' around….Sometimes a combination comes together and something magical happens when they render together…that is what is happening here. The sky's the limit for these boys…It's fresh and new… but fits like your favorite old shoes. These boys can hammer down."
In most cases, much forethought, planning, and sometimes recruiting, goes into forming a musical unit, but not in the case of Hammertowne. This group of musicians gathered in a studio as session players on a solo effort, and something special transpired. After the stop button had been hit on the first take of the first song, several seconds of complete silence filled the room, until finally from the control room came…"WOW!" The energy and musical compatibility was so strong, that the musicians decided they wanted to continue. Thus, Hammertowne was born. With this group of musicians, it is simply about the music, and having more fun on stage than should be legal. Their love of playing and entertaining emanates from the stage as well as studio.
GHS Strings is the first choice for many of the world's most renowned professionals and our collaboration with artists to create our Signature Series has been copied, but not duplicated, by lesser brands. Whatever your musical tastes, from bright crunching rock to mellow bluesy sounds, GHS has the right strings for you.
GHS produces a full line of strings for fretted instruments: electric, acoustic and classical guitar; electric bass; banjo; mandolin; pedal and steel guitar and more. All GHS products are manufactured with one objective - to provide players with products that continually exceed their expectations.s desired sound.