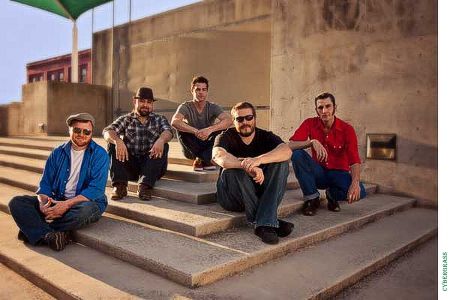 Nashville, TN -- The HillBenders are an aggressively energetic acoustic quintet at the forefront of an alt-grass revolution. With the release of their latest project, Can You Hear Me? on Compass Records, The HillBenders have established their own brand of acoustic fusion: a rich blend of bluegrass and Americana with a razor-sharp indie-rock edge. The HillBenders, along with many of their of their non-traditionalist peers, are turning heads across the country and around the globe as they continue to redefine bluegrass and acoustic music for the modern era. The fans are not the only ones who are jumping onto the Benders' alt-grass bandwagon.
The band has just started a new chapter in their remarkable journey by entering into a booking agreement with nationally renowned, and highly esteemed talent agency, KCA Artists. Responsible for the touring careers of some of the country's most beloved performers like Hot Rize, Guy Clark, Seldom Scene, and Steep Canyon Rangers, KCA has been instrumental in the growth of the American acoustic music scene for more than three decades. The agency's deep connections in the folk, Americana, and bluegrass markets will offer countless new opportunities for the band and raise the bar for a bright future.
Formerly known as Keith Case & Associates, KCA Artists is a talent agency providing direction to the finest roster in American music. With over 30 years in the business, Keith Case has become widely known for representing one-of-a-kind artists of exceptional quality, and doing so with integrity and professionalism. Today, that tradition continues and grows. Case has a long-standing reputation as a passionate, dedicated advocate of bluegrass and roots music, helping pave the way for the best artists in these genres move toward the mainstream. He and his staff bring that same energy and devotion to their select artists in the fields of folk, gospel, contemporary blues, roots rock, bluegrass and Americana. The music represented is both timeless and contemporary, with each artist having a history of inspiring critics and electrifying audiences of all ages, backgrounds and walks of life.
Billboard Magazine has touted Compass Records Group as one of the leading independent labels of the past decade. The label group is home to more than 500 releases across the Compass Records, Green Linnet and Mulligan Records imprints with a roster that boasts a variety of artists including Colin Hay, Victor Wooten, Claire Lynch, Altan, Peter Rowan, The Gibson Brothers, Darden Smith, BeauSoleil, The HillBenders, Michael Cleveland, and label co-founder Alison Brown. For more information, visit compassrecords.com, keithcase.com