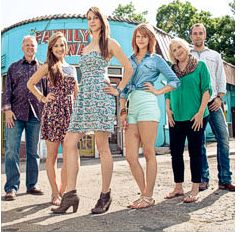 "This talented family band from Illinois has successfully navigated the most difficult hurdle facing groups of this kind: growing from a 'cute kid' act to a serious collection of young adult musicians," says John Lawless of Bluegrass Today. In a short amount of time they have developed a unique sound that has drawn critical acclaim from across the bluegrass community. In 2012, Emily Bankester was awarded the first International Bluegrass Music Association Momentum Award for Vocalist of the Year.
Their 2012 release Looking Forward, produced by Steven Mougin (Sam Bush Band, Nedski and Mojo), was called one of the best of 2012 by Engine 145, praising the "angelic harmonies of sisters Melissa Triplett, Emily, and Alysha," and the track "Looking Forward To Look Back" climbed to the #1 spot on the Bluegrass Today airplay chart in February. The album features the band's intuitive harmonies with cuts by Donna Ulisse, Dennis Duff, Billy Boone Smith, Lynn and Kerry Chater, and others. They even made a touching video for the self-empowering song "Don't Try To Be Anyone Else"
The band was recently signed to Compass Records [1]. Phil and Dorene Bankester and their three daughters and son-in-law are known for some of the finest harmony singing in bluegrass music. The band follows in the footsteps of other legacy family acts like The Cox Family and The Marshall Family. The band is starting to gain widespread attention in the bluegrass circuit this year.
The group is planning on a new album this fall. Over the past few months the band has been hard at work with producer Alison Brown on their next release, Love Has Wheels, which will include special guests Sierra Hull, Josh Williams, Rob Ickes, Jim Hurst and others. The album will host 12 tracks of bluegrass to Americana songs.