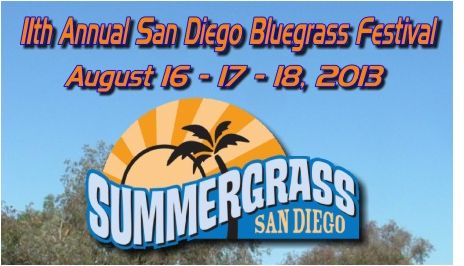 San Diego, CA -- Summergrass San Diego is now less then 20 days away. Advanced ticket sales have been good and are still available, camping and electric hook-up sales have also been good. Summergrass San Diego is now going into its eleventh season. What a wonderful festival they have created.
Keep in mind that if you want to buy tickets at a reduced advanced ticket price they are on sale until August 5, 2013. So, internet sales will be closing soon. All mail orders need to be in the Summergrass ticket office by that date also, not just postmarked. It takes time to process orders, and may be held in will-call at the gate.
Summergrass is 3 Days of great live music from 13 national and local bands, and wonderful activities, such as Kids Camp, Sid Lewis' Jamming 101, other music workshops and family-friendly things to do, spontaneous jam sessions, our ever-popular instrument raffles, tasty food, and a variety of vendors. Summergrass is enjoyable for the whole family! It's a great, affordable family event.
2013 Lineup: The exciting 2013 lineup is NewFound Road, Sierra Hull, Flatt Lonesome, Bluegrass Etc., Frank Solivan & Dirty Kitchen, Bluegrass Brethren, Next Generation, Gone Tomorrow, Old Town Road, Box Canyon, Roustabouts, Full Deck, and the Front Porch Music Preservation Society.
After August 5th you will then have to buy tickets at Buffalo Brothers Music store, the Antique Gas and Steam Engine Museum or at the gate. So, if you haven't purchase tickets by now you need to take time and get them while you can at the advance price. Go to www.summergrass.net [1] for ticket information.