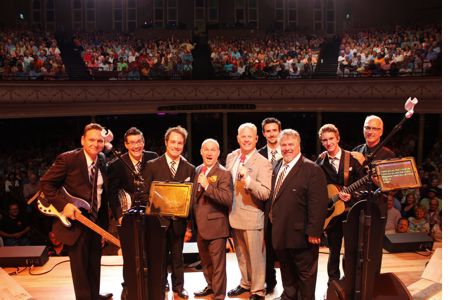 Nashville, TN -- Bluegrass superstars Dailey & Vincent recently performed to a sell-out crowd at the historic Ryman Auditorium in Nashville. The show, which was broadcast live nationally on SiriusXM's Bluegrass Junction channel and on Nashville's legendary WSM, was presented as part of the Springer Mountain Farms Bluegrass Nights at the Ryman series. The wildly enthusiastic crowd showed their appreciation with six standing ovations for the band, which, in addition to Jamie Dailey and Darrin Vincent, included Jessie Baker, BJ Cherryholmes, Christian Davis, Jeff Parker, Seth Taylor, Bob Mummert, Mark Fain, and appearances by Molly Cherryholmes.
SiriusXM's Kyle Cantrell said "It was a superb night last night as Dailey & Vincent performed live at the Ryman. They knocked it out of the park! SiriusXM was privileged to get to broadcast such an outstanding show from a band which is truly a credit to bluegrass music."
WSM's Joe Limardi concurs: "In my humble opinion, I believe Dailey & Vincent never sounded better than when they hit the stage where bluegrass was born – the Ryman. Last night's sell-out was a true testament to that, as witnessed by the in-house audience, and by the WSM radio audience across the country and around the world, who listened online. Congrats on a special night!"
In his review of the show, Billboard's Chuck Dauphin observed "Thursday's performance was proof of why [Dailey & Vincent] are regarded as one of the best bluegrass acts out on the market right now -- and if they keep it up, they have a strong chance to join Monroe, Flatt, Scruggs, and the Osbornes among the best of all time."
On Friday, July 26, Dailey & Vincent will launch their hour-long monthly radio show on WSM. The Dailey & Vincent Radio Show will air on the last Friday of every month between July and December 2013. Each episode will focus on a specific time period in the duo's illustrious career, and will feature stories, songs, reminiscences, and a few surprises for their fans.
Air Dates:
Show #1: July 26
Show #2: August 30
Show #3: September 27
Show #4: October 25
Show #5: November 29
Show #6: December 27* (subject to change)