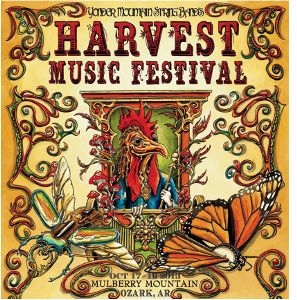 The Yonder Mountain String Band's Harvest Music Festival will take place at Mulberry Mountain in Ozark Arkansas on October 17-19, 2013. This exciting festival is a favorite with many different style bands performing over the 3 day event. The Mulberry Mountain Harvest Music Festival is an annual event featuring exciting entertainment from some of the nation's top performers. Bands like Darrell Scott & Tim O'Brien, Hot Buttered Rum, Steep Canyon Rangers, Geensky Bluegrass and more will entertain the fans again this year.
Yonder Mountain String Band has always played music by its own set of rules. Bending bluegrass, rock and countless other influences that the band cites, Yonder has pioneered a sound of their own. With their traditional lineup of instruments, the band may look like a traditional bluegrass band at first glance but they've created their own music that transcends any genre. Dave Johnston points out "What could be more pure than making your own music." Yonder's sound cannot be classified purely as "bluegrass" or "string music" but rather it's an original sound created from "looking at music from [their] own experiences and doing the best job possible." The band continues to play by their own rules on their new record The Show.
Following that model, the group's festival is just as diverse with everything from the hard traditional bluegrass to a full acoustic sound and into the realm of the progressive. Never boring and always something new. The diverse lineup for the Yonder Harvest Festival includes the Yonder Mountain String Band, Tedeschi Trucks Band, Les Claypool's Duo de Twang, Railroad Earth, Beats Antique, JJ Grey and Mofro, Kacey Musgraves, Justin Townes Earle, Turnpike Troubadours, Greensky Bluegrass, Everyone Orchestra, Darrell Scott & Tim O'Brien, Gangstagrass, Steep Canyon Rangers, Elephant Revival, Hot Buttered Rum w/ Allie Kral, Cas Haley, Zach Deputy, Rayland Baxter, Delhi 2 Dublin, The California Honeydrops, Carolyn Wonderland, The Dirty River Boys, Sister Sparrow & The Dirty Birds, Kopecky Family Band, Ha Ha Tonka, American Aquarium, Wheeler Brothers, Andy Frasco and the U.N., Uncle Lucius, Mountain Sprout, Dirtfoot, Head for the Hills, Hot Club of Cowtown, Star & Micey, Quiet Corral, Samantha Crain, Afrolicious, Shook Twins, Roadkill Ghost Choir, Useful Jenkins, Rosco Bandana, Kris Lager Band, The Deadly Gentlemen, Good Gravy, She's A Keeper, Wood & Wire, Grant Farm, Ugly Lion, and Deep Fried Pickle Project.
The tickets are available through the Yonder Harvest Festival web site [1]. Tickets go on sale June 3rd. Reserved Campsites go on sale July 2nd! Important -- Reserved Campsites are available for online purchase only beginning Tuesday, July 2nd @ 12:00pm (Noon) CST. These highly coveted campsites sell out in minutes! Be sure to mark this date on your calendar! The reserved campsites include water & electrical hook-ups. Those attending are encouraged to get their tickets early for the lowest price and to insure they get their event passes. Wednesday Arrival allows Three Day ticket holders to enter the festival on Wednesday afternoon. Yes... there will be music Wednesday night at the Backwoods stage too!
Watch the Yonder Harvest Festival web site [1] for updates and additional information.