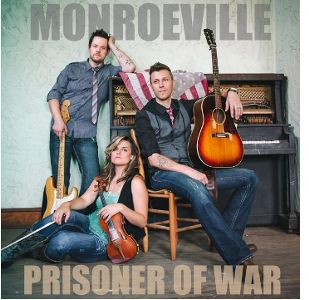 Come hang out and party with Monroeville as they celebrate their new single release during the 4th of July weekend in one of the Nation's most loved desinations, Ole Smoky Moonshine Distillery in Gatlinburg, TN. The weekend starts off with Monroeville appearing on their own float in the Nation's First 4th of July Parade starting at Midnight on July 3, where they will perform throughout the parade. Of course, Gatlinburg puts on one of the greatest fireworks shows ever! Then on July 4, at 8 p.m., the party starts!
The single, Prisoner of War will be released on July 4 to all radio stations worldwide, and will be for sale online at all major outlets.
Those able to attend the weekend of the 4th will have first chance to purchase a Limited Edition CD available with the new radio single cut of "Prisoner of War", a special live version cut of Prisoner of War, and a special live version of an original instrumental, "Gallorojo".
Prisoner of War was written by the three artists of Monroeville, Matthew Munsey, Carl White and Rachel Mayanovic, along with friend, Eli Johnston. We have included a special download code at the bottom of this email for you to enter and receive a free preview of the single.
Prisoner of War has been described as "haunting" and has captured the hearts of several veterans and active military around the U.S. "I have family members currently serving or have served in the military, and so do others in the band," states Matthew Munsey. "We knew the song was special when we were writing it, but we didn't know the impact it would have on others until we played it live, and veterans as well as current military came to us and told us how much it affected them, and that we should release it."
Matthew also states, "Then we were honored to be able to film a live video and EPK (electronic press kit) in the Veteran's Memorial Building in Newport, TN on Memorial Day, with an 85 year old veteran, Mr. JC Williams, who hung out with us all day. What an honor! So we felt it was fitting to release it in our own hometown of Gatlinburg, who celebrates the biggest and first July 4 parade in the Nation!"