Artist/producer John McEuen has posted a YouTube video of the meeting of Doc Watson and Merle Travis. This was definitely a special moment in American musical history. In 1966, the Nitty Gritty Dirt band had their first important show opening for Merle Travis at the Ash Grove in Hollywood, California. Five years later, they invited Travis to meet Doc Watson for the first time. The meeting was during the historic 'Circle' sessions.
The short video captures the dialog between these two musical greats. Captured during the recording of the landmark Will the Circle Be Unbroken album by Nitty Gritty Dirt Band in 1971... released 1972 ..now also on Capitol Records on 180 gram vinyl (released 2013, March).
The Nitty Gritty Dirt Band's seminal 1972 Americana album, Will the Circle be Unbroken, has been remastered from the original analog tapes for a deluxe 40th Anniversary 3LP vinyl and high definition digital HD tracks edition, released Tuesday, March 12 by Capitol Nashville. This is the seminal 1972 country/Americana/bluegrass album's first ever vinyl reissue. Pictured at Bernie Grundman Mastering are (L-R) Bernie Grundman, keyboardist Bob Carpenter, mastering engineer Chris Bellman, and John McEuen. Photo by David Goggin.
Overseen by the band and including a new liner notes essay by the Dirt Band's John McEuen, the commemorative edition features the original, Platinum-certified triple album on 180-gram vinyl, presented in faithfully restored gatefold packaging with an exclusive poster.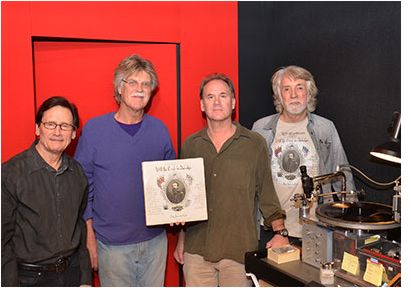 Recorded live over six consecutive days at Woodland Sound Studios in Nashville, "Will the Circle be Unbroken" is a timeless feat of studio collaboration, bringing together accomplished country songwriters and musicians from two generations for a cohesive album that is both steeped in tradition and pioneering in its form, ushering in the new Americana style and remaining a font of musical influence to this day. In 2005, the album was selected for the National Recording Registry by the Library of Congress, joining an esteemed group of essential American recordings which "are culturally, historically, or aesthetically important, and/or inform or reflect life in the United States."
This meeting between Doc and Merle is just one of the many historic events that occurred during the session.