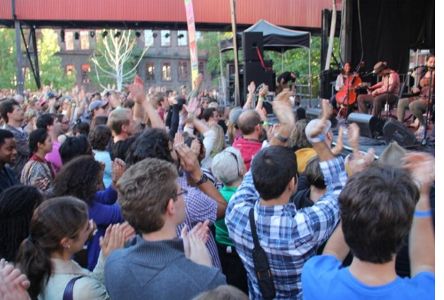 North Adams, MA -- Bluegrass Music is rich in tradition, including a storied history of flat-picking contests, fiddlers' conventions, and other participatory events that bring together musicians in spirited competition. The FreshGrass Award, new to this year's FreshGrass Festival at Massachusetts Museum of Contemporary Art's (MASS MoCA) in North Adams, Massachusetts, seeks to add new octane to the competition circuit, with $10,000 in cash prizes, a Compass Records recording session in Nashville, mentoring with veteran musicians, and a performance spot at next year's FreshGrass festival. FreshGrass rewards fresh takes on bluegrass with cash, recording session & mentoring.
Returning FreshGrass performer Alison Brown fondly recalls that for many in her generation, it was often the contest circuit that fueled their work. Contests encourage new songs, more travel, and the honing of skills. She says, "Back when I was learning to play, the contest scene was a great way to hone your skills and get experience playing under pressure, and the contest circuit created a great community," continues Brown. "While there are still a handful of active contests around the country, there just aren't as many as there were 20 years ago. So I think the FreshGrass folks are really on to something in revitalizing this important vehicle for young players to polish their craft. I'm delighted and proud to be a part of it."
FreshGrass will focus on songwriting in its inaugural competition. "Excellent chops and good knowledge of bluegrass traditions will be among the criteria for our award," says FreshGrass producer Chris Wadsworth. "But our main emphasis will be on original approaches to songwriting - new slants in composition, musical arrangements, and lyrics that we hope become a distinguishing feature of this contest."
Bands apply for the award by posting a performance video of a traditional and an original composition. Details can be found at www.FreshGrass.com [1]. Six finalists, selected by a jury comprised of Alison Brown and two other national musicians, will be invited to perform live, before the jury, during this year's FreshGrass festival. Finalists must appear in person to be eligible for awards.
The centerpiece grand prize for the FreshGrass Award is $5,000, plus a recording session with Compass Records in Nashville, with mentoring by Alison Brown. The winner of the 2013 Freshgrass Award will also be invited to perform on stage during FreshGrass 2014. The runner- up will receive a cash prize of $2,000. All non-award-winning semifinalists will receive a $250 honorarium. Submissions for the contest are being accepted through August 1; six finalists will be announced on August 15.
"The folks at FreshGrass recognize that some of the most vibrant and culturally important new music being made right now is happening around the fringes of bluegrass, and they're supporting it in a big way. The FreshGrass band contest is a great example - honoring the tradition as well as the spirit of innovation - with cash prizes big enough to make any picker sit up and take notice," continues Alison Brown.
FreshGrass is a wonderland of bluegrass and roots music, rich in both traditional and cutting-edge bluegrass, and presented in a wide array of venues tucked appropriately into a 19th-century-factory-turned-21st-century-museum in the Berkshires of western Massachusetts.
FreshGrass is also one of the best values in the festival world. Early-bird festival passes are available for $68 for adults and $58 for students. After the early-bird tickets have sold out, general admission pricing will be $78 for adults, $68 for students, $38 for kids 6-16, and free for children 5 and under. Museum members receive a 10% discount on the regular prices, but membership discounts do not apply on the early-bird prices. Day passes will be available closer to the event. Tickets are available through freshgrass.com and massmoca.org or by calling the MASS MoCA box office at 413-662-2111 x1. The Box Office is located on Marshall Street in North Adams, and is open from 11am to 5pm, closed Tuesdays. In July and August, the Box Office is open from 10am to 6pm every day. Festival-goers are welcome to bring chairs, blankets, and cushions to sit on but should leave coolers and picnic baskets at home. The festival will be held rain or shine.
Exhibitions on view during FreshGrass include, among others, Xu Bing: Phoenix, a monumental display of sculptural phoenixes, each stretching nearly 100 feet in length and weighing over 20 tons in all; One Minute Film Festival, featuring over 600 micro-films; Life's Work, focusing on two artists, Tom Phillips and Johnny Carrera, who have spent their entire careers making art from - and about - single books; Love to Love You, a show of artists who explore the essence of being a fan in today's popular culture; and two solo exhibitions, one of New York-based painter Joseph Montgomery and the other of Paris-based sculptor Guillaume Leblon.
MASS MoCA is one of the world's liveliest (and largest!) centers for making and enjoying the best new art of our time across all media: music, art, dance, theater, film, and video. Hundreds of works of visual and performing art have been created on the museum's renovated 19th-century factory campus during fabrication and rehearsal residencies, making MASS MoCA perhaps the most fertile site in the country for new art. MASS MoCA is an open platform that thrives on presenting art and learning experiences that are fresh, engaging, and transformative.
MASS MoCA's galleries are open from 11am to 5pm every day except Tuesdays. In July and August, MASS MoCA's galleries will be open from 10am to 6pm every day. Gallery hours are often extended on evenings featuring performing arts events. Gallery admission is $15 for adults, $10 for students, $5 for children 6-16, and free for children 5 and under. Members are admitted free year-round. For additional information, call 413-662-2111 or visit www.massmoca.org [2].
MASS MoCA is an independent 501(c)(3) whose operations and programming are funded primarily through admissions and commercial lease revenue, corporate and foundation grants, and individual philanthropy. Except for a construction grant from the Commonwealth, and competitive program and operations grants from the National Endowment for the Arts and the Massachusetts Cultural Council, MASS MoCA is privately funded: 90% of MASS MoCA's annual operating revenues come from earned revenues, membership support, and private gifts and grants.