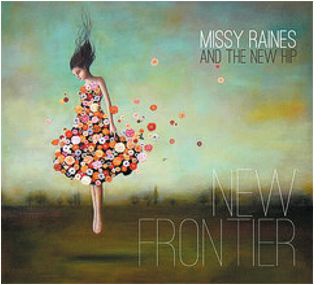 Multi-award-winning bass player Missy Raines has long been one of bluegrass music's most beloved musicians, but on New Frontier, set for release on August 27th, she explores the next step in her musical vision, redefining herself as a charismatic lead vocalist on a set of songs penned by Pierce Pettis, Sarah Siskind, Ed Snodderly, Zach Bevill and Raines herself. This Seven Time IBMA Bass Player of the Year artist finds her voice on these new tracks.
Drawing inspiration from indie rock and acoustic jazz as well as Americana and newgrass, Raines shapes a distinctive sonic landscape around the cool grooves of The New Hip (guitarist/co-producer Ethan Ballinger, mandolinist Jarrod Walker, drummer Josh Fox and Raines' distinctive upright bass), joined by special guests including Sam Bush, The Farewell Drifters' Zach Bevill and former New Hip percussionist Robert Crawford.
"If you allow it" says Missy Raines, "music can take people and let them be seen from the inside out. It's a way of letting people see who you are without having to sit there and talk about yourself. For instance, the title tune contains the sort of changes that life often forces upon you, expressed musically. When I was writing the tune, I was thinking, 'this all makes really musical sense except this one half-step change here.' That's what throws you off. For me that's what I've been through. Just when you think you know what's going to happen, something comes up and surprises you."
But the real standout here is Raines' emotive alto—It's an unexpected pleasure; smooth in delivery and surprising in context, it is also the defining element of New Frontier. Missy Raines is offering a free download of the title track [1] "New Frontier," inviting listeners to experience her new sonic vision first hand.
Raines' groundbreaking, adventurous musical career as one of the pre-eminent female bass players began with an unexpected surprise from her father. "My father had been playing a washtub that he'd made himself and then decided impulsively (without consulting my mother) to buy a bass. I was already playing the piano and guitar by then, but when you're ten or eleven years old and there is a new instrument in the house…well, I couldn't stay away from it. That's the bass I still have and play today."free download of the title track