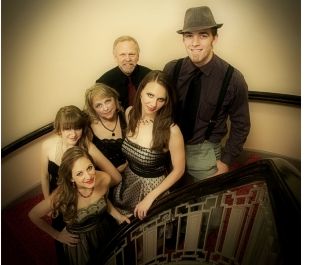 Nashville, TN -- Bluegrass band The Bankesters have started recording tracks for their fifth album, and their Compass Records debut, scheduled for release in the fall. The new album is being produced by Compass co-founder Alison Brown and, together with the band, they have completed several weeks of pre-production with a great set of new material. The songs will showcase their signature family harmonies and the distinctive lead voices of each of the Bankester daughters, including 2012 IBMA Momentum Award winner Emily Bankester.
Patriarch and guitarist Phil Bankester comments: "Our first four projects were recorded in our home and this is our first opportunity to record in a real recording studio. We're extremely excited about working with Compass Records and about this new recording project." Emily Bankester echoes those sentiments: "Hearing all the new material come together for the first time is so exciting. I'm really looking forward to sharing this project with everyone!"
Phil and Dorene Bankester and their three daughters and son-in-law are known for some of the finest harmony singing in bluegrass music.
"This talented family band from Illinois has successfully navigated the most difficult hurdle facing groups of this kind: growing from a 'cute kid' act to a serious collection of young adult musicians," says John Lawless of Bluegrass Today. In a short amount of time they have developed a unique sound that has drawn critical acclaim from across the bluegrass community. In 2012, Emily Bankester was awarded the first International Bluegrass Music Association Momentum Award for Vocalist of the Year.
The Bankester's 2012 release Looking Forward was re-released by Compass Records Group for broader distribution on May 28th and is currently eligible for the 2013 IBMA Awards. Engine 145 called the album one of the best of 2012 while the track "Looking Forward To Looking Back" climbed to the #1 spot on the Bluegrass Today airplay chart earlier this year.