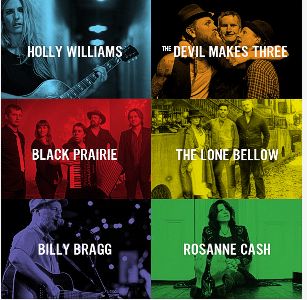 The Americana Music Association unveils its first round of artists confirmed to perform during the 14th annual Americana Music Festival & Conference, presented by Nissan, Sept. 18 - 22, 2013. The early lineup features icons, innovators and up-and-comers and underscores Americana's perennially formative place in the world's musical landscape.
Artists include: Black Prairie, Billy Bragg, Rosanne Cash, The Devil Makes Three, John Fullbright, Frank Fairfield, Drew Holcomb & the Neighbors, JD McPherson, The Lone Bellow, Aoife O' Donovan, Darrell Scott & Tim O'Brien, Richard Thompson, The White Buffalo, Holly Williams and The Wood Brothers. The full list can be found later down this article.
The genre, called 'the coolest music scene today' by The New York Times, continues to grow deeper grassroots while gaining industry recognition as demonstrated by the Grammy's® recent addition of 'Best American Roots Song' in the American Roots Music Field -- the only new category this year.
Of interest to bluegrass readers, The Infamous Stringdusters, Kruger Brothers, Buddy Miller & Jim Lauderdale, Darrel Scott & Tim O'Brien are artsts to keep an eye and an ear on. The complete showcase artists confirmed to perform include:
Black Prairie
Billy Bragg
Rosanne Cash
The Del-Lords
The Devil Makes Three
Sam Doores, Riley Downing & the Tumbleweeds
Frank Fairfield
Field Report
John Fullbright
Drew Holcomb & the Neighbors
Hurray for the Riff Raff
The Infamous Stringdusters
Kruger Brothers
Pokey LaFarge
Nikki Lane
The Lone Bellow
Luella & the Sun
JD McPherson
Buddy Miller & Jim Lauderdale
Aoife O'Donovan
Old Man Luedecke
Lindi Ortega
Darrell Scott & Tim O'Brien
Shakey Graves
Sturgill Simpson
Sons of Fathers
Spirit Family Reunion
Steelism
The Stray Birds
Richard Thompson
Holly Williams
The White Buffalo
The Wood Brothers
The Americana Music Festival & Conference is open to the general public and music industry professionals. Festival and Conference Registrations are now available at the reduced rate of $350 for Americana Music Association members and $450 for non-members. Registrants receive entrance to all sanctioned daytime conference music, panels and parties, plus priority access to all evening showcase performances and a ticket to the critically acclaimed 12th annual Americana Honors & Awards Wednesday, September 18 at the Ryman Auditorium. Registrants may purchase an additional ticket to the Honors & Awards show and a Music Festival wristband for their accompanying guests by calling the Americana Music Association office at (615) 386-6936.
The Americana Music Association is a professional non-profit trade organization whose mission is to advocate for the authentic voice of American roots music around the world. The Association curates events throughout the year including the annual Americana Music Festival & Conference, Presented by Nissan, which will take place September 18-22, 2013 in Nashville, TN. Find out more about the Americana Music Association at http://americanamusic.org/ [1]
Check out the AmericanaFest 2013 Playlist on Spotify - http://www.spoti.fi/165l0aT [2] Conference, presented by Nissan, Sept. 18 - 22, 2013. The early lineup features icons, innovators and up-and-comers and underscores AmericanaDrew Holcomb /li