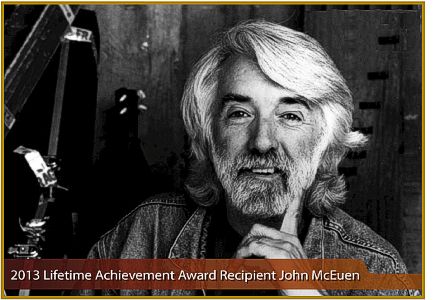 John McEuen will be the recipient of this year's Lifetime Achievement Award at the 18th annual Charlie Poole Music Festival in Eden, N.C. this weekend. The festival celebrates the music of Charlie Poole and his bandmates, The North Carolina Ramblers. Poole was a pioneer in music and an early entertainer in the country and bluegrass music genres. Poole and the band went to New York City in 1925, auditioned for Columbia Records, and recorded four tracks for the label.
In 1931, Poole was supposed to write and record music for a film, but died of heart failure before he could make the trip to Hollywood. His legacy is carried forward through the music of the new North Carolina Ramblers and their leader, Kinney Rorrer. The band makes use of the sounds of the original band, including banjo and other stringed instruments popular in the 1920's. Rorrer and his brother, Doug, are nephews of Poole. The group continues to focus on old-time music.
McEuen is being honored for his dedication to the banjo and his continued creativity in traditional music. A founding member of the Nitty Gritty Dirt Band, McEuen has performed for 49 years, recorded 40 albums, played at 8,500 concerts and travelled more than three million miles. He continues to play with the Dirt Band as well as perform as a solo act. His production of Steve Martin's "The Crow" won the 2010 Best Bluegrass Album Grammy Award.
Among his latest album releases, The McEuen Sessions: For All the Good, features sons Jonathan and Nathan.
McEuen will lead a guitar and banjo workshop on Saturday that will discuss recording techniques, tuning, tricks for players, tips on playing live, the in-depth story of the "Will the Circle Be Unbroken" album and a Q & A with the audience.
The 18th annual Charlie Poole Music Festival starts Friday, June 14 at 5 p.m. at Governor Morehead Park in Eden and runs through Saturday night, June 15. The Dry Hill Draggers, Kinny Rorrer and McEuen perform on Friday.
In addition to McEuen's workshops on Saturday, there will be music contests, including flatpick and fingerstyle guitar, bluegrass and clawhammer banjo, bluegrass and old-time fiddle and vocals. The event also will feature food and other vendors, a Little Ramblers children's area and basic camping.
A founding member of the Nitty Gritty Dirt Band (now in their 44th year) John McEuen has continually performed since 1964 - 8,500 concerts and 300 television shows throughout more than 3 million miles - both with the band and as a solo performer. Beyond performing, he has a rich history of creating, producing and preserving original and traditional folk and acoustic music, and taking it to new audiences.
He brings his guitar, banjo, fiddle, and mandolin along with favorite Dirt Band songs and the stories behind them. This past October he was honored with the Best in the West Award from the Folk Alliance Organization.
McEuen has made over 40 albums (6 solo) that have earned four platinum and five gold recognition awards, Grammy nominations, CMA and ACM awards, an Emmy nomination, IBMA record of the year award, and performed on another 25 albums as guest artist. He's also produced more than 300 concerts throughout his career - the first in 1965 in Long Beach Calif., with Bob Dylan.
His production of Steve Martin - The Crow won the 2010 Best Bluegrass Album Grammy. The Music of the Wild West CD- produced by McEuen, was honored with the Western Heritage Award. A Grammy nomination for String Wizards II preceded the1994 Uncle Dave Macon Award for his excellence in preservation and performance of historic music. On Sirius/XM's The Village, John's popular Acoustic Traveller show is now in its 5th year. . McEuen produced and directed the 2006 documentary film The Dillards - A Night In the Ozarks, which captures his early mentors at their best.
McEuen's countless jams include street performers to Phish, Earl Scruggs, Levon Helm… and even on Sesame Street with a herd of goats and a cow! Arguably, McEuen's most important legacy may be his instigation of what Rolling Stone called "The most important record to come out of Nashville" and what the 2004 ZAGAT survey called "the most important record in country music" - Will the Circle Be Unbroken...
For more information and tickets, go to www.charlie-poole.com [1].