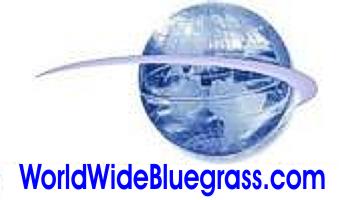 Les Sears, an announcer with World Wide Bluegrass has announced to us that the annual fall fundraiser for WWB is on and will continue through October 1, 2011. He reminds us that listeners can always donate throughout the year but, now is the important period.
World Wide Bluegrass needs you to help us in their efforts to bring Bluegrass Music to the World. Through generous contributions from you, they can continue funding their Bluegrass Music efforts. They encourage you, if you can, to contribute, join or sponsor us here at World Wide Bluegrass. We are always looking for volunteers to do the needed work required to sustain the efforts at World Wide Bluegrass.
World Wide Bluegrass is an Internet Only webcasting station with offices in Newport, Kentucky. Founded by Gracie Muldoon in September 2005 after she left Old Country Radio Network (OCRN), the all-bluegrass Internet station has become the place to listen to bluegrass on the web. For five years, the station has survived because of listener support.
On November 1, 2006, Cybergrass announced that WWB had begun 24-hour a day Internet streaming bluegrass music on the web. The station continues to grow with multiple DJ announcers offering a variety of programming throughout the week. Nationally known acts are played, new releases are heard but a unique result of this mixture of DJ's is the playing of music from around the world of bands that often would not have a larger outlet for their talent. All artists with properly licensed material are encouraged to submit music for possible air time. This allows listeners in the USA to hear bands from Canada, Easterners to hear the sounds being made in the Rockies and request for Flatt and Scruggs coming from Europe resulting in the fans experiencing the world wide appeal of the music.
In January of 2009, WWB announced they had gone International when Hans Woilters started hosting a show live from Holland. Hans commented at the time saying, "last year was my 20th year that I visited the Festival of the Bluegrass in Lexington, Kentucky. This is where I met Gracie Muldoon and this is the place where we first started talking about me becoming a DJ for the WWB. Before that I visited the WWB for almost 4 years as a listener and chatter."
The site also boasts a chat room gives WWB's "GrassChatters" the ability to share their knowledge and their stories about the music. Bluegrass artists drop by unannounced and chat and, yeah, sometimes even recipes are exchanged. WWB attracts listeners from all around the world including Holland, Germany, Norway, Canada, Australia and Asia just to a name a few. For those that are listeners, www.WorldWideBluegrass.com [1] has four player options (Windows Media Player, Real Player, WinAmp and Apple's iTunes/Quicktime) connecting to the continual streaming audio for listening enjoyment.
The world's Internet stations needs listener support to keep the music streaming. Any amount you send large or small will help keep the WWB up and running and pay the bills which must be paid each month or we will go dark. You may send your donation by pay pal (use donation button on WWB page at www.WorldWideBluegrass.com [1]) or you may send a check or money order to: World Bluegrass, P.O. Box 117 Talking Rock, GA 30175.