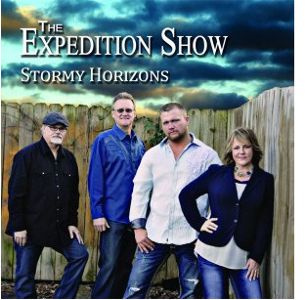 Willis, VA -- The unique and entertaining musical journey of The Expedition Show is at the forefront with the release of their new Mountain Fever Records album Stormy Horizons. The album's first single, "Stormy Horizons" was released on February 19th to high acclaim. WAMU Bluegrass Country's Gary Henderson said, "One of my all-time favorite Jim & Jesse tunes from the 1960's is "Stormy Horizons". The Expedition Show treatment with fiddle and walking bass lines, really add to your cover. Well Done!"
This CD release week starts with the SiriusXM Bluegrass Junction Track By Track with Kyle Cantrell on Wed. May 15th followed by a CD release concert in Rolla, MO at the Ozark Actors Theatre and Friday and Saturday, May 17th and 18th - CD Celebration Shows at Silver Dollar City's Bluegrass & BBQ in The Playhouse.
Known for their tight blend of vocal harmonies, white-hot picking, and side-splitting humor, The Expedition Show performs a fast paced, non-stop, crowd-pleasing show via original songs and fresh sounds combined with old-school traditional spirit. The new album is no different.
The Expedition Show has been a fan and festival favorite since their beginning in early 2002, with their 2011 self-titled Mountain Fever Records release reaching #1 on Sirius XM's Most Played Albums in October 2011. During the band's 11 year tenure, the group has been nominated twice by the International Bluegrass Music Association (IBMA) for Emerging Artist of the Year (2005 and 2007), Wayne Southards has won the International Acoustic Music Association's Male Vocalist of the Year award (2009) and Blake Williams has been nominated three times for Entertainer of the Year by the Society for the Preservation of Bluegrass Music of America (2007-2009).
Band member and banjo player, Blake Williams says, "We've always put great thought into providing a true listening experience with each project we've released through song selection and arrangements. Wayne, Alex and I all contributed original songs to this project but we've also reached back and recorded songs by Hank Williams, Sr. and Earl Scruggs. And the title cut was a song we'd heard Jim & Jesse do for years that was co-written by Ira Louvin. This is our 7th CD as a band and as with all of them, Tim Crouch adds some amazing fiddle and we were also honored to have our dear friend Phil Leadbetter play dobro of 3 tracks."