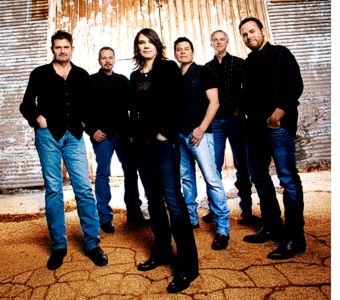 Nashville, TN -- As a recording artist, Wade Hayes enjoyed hit records including "Old Enough To Know Better" and "On a Good Night." He recorded 5 albums of his own and had a successful stint as a sideman as a member of longtime Alabama lead singer Randy Owen's band. The charming Oklahoma native with the rich baritone was living his Country Music dream.
Then, in late 2011, Hayes received a diagnosis that stopped him in his tracks. Stage IV colon cancer had spread throughout his body. The initial prognosis was grim, but with surgery and aggressive treatment, Hayes is alive to tell his story and to use his talents to raise awareness and resources to fight cancer. "It was truly a miracle," he says. "I thank God every day that He saw fit to keep me around."
Hayes joins multi-award winning bluegrass band, The Grascals along with Phoenix Drive and Bobby Chitwood for a benefit concert for the Leukemia & Lymphoma Society (LLS) on Tuesday, May 14th at the Swingin' Doors Saloon in downtown Nashville.
The Grascals are riding high on a year that has included national TV appearances on The Tonight Show with Jay Leno, Marie Osmond's Show and a Grammy nomination for their album LIFE FINDS A WAY. The band was also honored with the SPBGMA Instrumental Group of the Year Award. They are currently balancing touring with recording a new project for release later this year.
Bobby Chitwood is set to release his debut album GRAVITY on the day of the event (Mesa/Bluemoon Records) featuring the single, "I Won't Give Up." Phoenix Drive is a gifted group of singer/songwriter/musicians produced by Nashville hit maker Joe West.
Doors open for the benefit concert at 6:30 pm with the star-studded show kicking off at 7 pm. A suggested minimum donation of $20 to LLS will be taken at the door. Hosted by radio personality Buzz Brainard, the event will include a silent auction, food and beverages. All proceeds go directly to cancer research through the Team In Training (TNT) running program that supports LLS. Since 1989, TNT has raised over $1 billion in the fight against blood cancers and have helped fund the research and development of over 37 crucial anti-cancer drugs.
Benefit Concert for LLS
The Grascals, Wade Hayes, Phoenix Drive & Bobby Chitwood
Tuesday, May 14
Doors open at 6:30 p.m.
Swingin' Doors Saloon
111 4th Ave S Nashville, TN 37201
(615) 736-5050