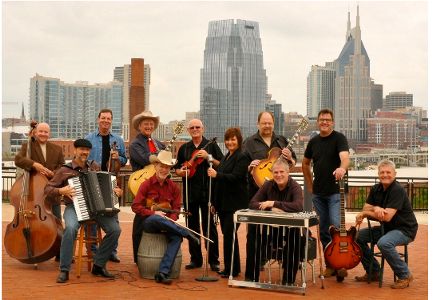 Nashville, TN -- Nashville's all-star band The Time Jumpers will appear live on public radio's "A Prairie Home Companion with Garrison Keillor." Broadcasting live from The Ryman Auditorium in Nashville, TN the show airs on Saturday, May 11 from 5pm - 7pm Central Time. The show can be heard internationally via public radio, live streaming and Sirius Satellite Radio.
The current edition of The Time Jumpers includes 11 members, each a master of his (and, in one case, her) instrument. Alphabetically—which is the only diplomatic way to present such a phalanx of evenly matched talent—they are Brad Albin (upright bass), Larry Franklin (fiddle), Paul Franklin (steel guitar), Vince Gill (vocals, electric and acoustic guitars), "Ranger Doug" Green (vocals, acoustic rhythm guitar), Andy Reiss (electric guitar), Dawn Sears (vocals), Kenny Sears (vocals, fiddle), Joe Spivey (fiddle, vocals) Jeff Taylor (accordion, piano) and Billy Thomas (drums, vocals).
Tap any member of The Time Jumpers on the shoulder and the face that turns to greet you will be that of one who's made major contributions to the richness and vigor of country music.
The Time Jumpers was established in Nashville in 1998 by an assemblage of high-dollar studio musicians who wanted to spend some spare time drinking beer and jamming with their sonically gifted buddies. The notion of building a rabidly devoted following was the last thing on their minds. But that's what happened. Learning that Monday evenings were the slowest in the week for the Station Inn bluegrass club, the superpickers settled into that fabled venue at the start of each week and set up shop. Pretty soon Monday nights were sounding a lot like Saturday nights—and drawing commensurately lively crowds.
As word spread along Music Row that something special was happening at Station Inn, big stars began dropping by, some to sit in with the band, others just to enjoy the vast array of country, swing, jazz and pop standards The Time Jumpers rejoiced in playing. Among those drop-bys were Bonnie Raitt, Reba McEntire, Norah Jones, Robert Plant, The White Stripes, Kings Of Leon, Jimmy Buffet and Kelly Clarkson. None asked for their money back.