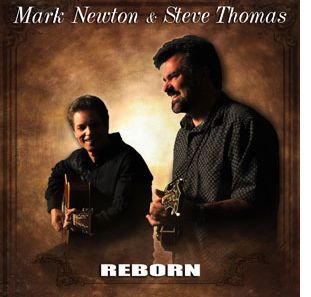 Pinecastle Records is proud to announce Tuesday's new 12 track album release of Reborn by Newton & Thomas. The first single, "Old McDonald Sold the Farm," written by Kenny Boudrea, Darryl Landry, and Ryan Roberts, debuted last week on Bluegrass Today's Top Song chart. "Great tune, great lyrics, great theme! Everything is there to take this single to the top of the charts and possibly become an anthem for the farmers and ranchers throughout this country," said Digital Rodeo in a recent review of the single. A music video for the song is being filmed this weekend in Franklin, Tennessee.
In addition to the single, other songs are a mix of new takes on classics and originals. The group turns the old favorite, "If it Ain't Love," into a showcase for their instrumental and vocal talents, while Ricky Skaggs lends his talents on claw hammer banjo on "The Girl I left in Sunny Tennessee," and the gospel song "The Key" offers a message of hope in a difficult world. Scott Vestal's banjo sound also graces five out of the twelve tracks.
Fans will certainly want to stay up late Wednesday night (actually May 2 at midnight) and tune in to hear Newton & Thomas on Late night with Marcia Campbell on WSM 650 AM.
"Conceived in mutual admiration for one another and born from a lifetime's love and pursuit of great music, Mark and Steve have given life to a fabulous collaborative work with Reborn. This album is a must have," said Terry Herd (Bluegrass Radio Network, Bluegrass Today).The pair recently sat down with Terry for a full length interview for Into the Blue that will air May 12 - 18 on the 139 affiliated stations of the Bluegrass Radio Network and on WSM 650 AM Radio on Sunday, May 12 from 9pm – Midnight.
Reviews from Media and Radio have been pouring in including:
"Reborn is every bit as good as I thought it would be from the moment I heard that Mark and Steve were making it. It's obvious how much fun these guys are having as they work together, and the results are as unique--and as satisfying--as anything each has done on his own. I love that they've recast a couple of old Knoxville Grass favorites, I love their charmingly relaxed version of The Girl I Left In Sunny Tennessee, I love the way they trade off harmonies and leads, and I've got to give a special shout-out, too, to Matt Wallace and his outstanding bass work. Nice stuff, fellas!" - Jon Weisberger
"As usual, because this is a Pinecastle product, the engineering values are flawless and bring out every last ray of sunshine in the venture. If you don't feel like moseying on down to the Grand Ole Opry after listening to this truly fine CD, then, Lord, I don't know what's wrong with ya." - FAME – Folk Acoustic Music Exchange
"Got the CD, and it's a HIT start to finish!" - Joe Wills, WBZC
"These well-seasoned pros have a wonderful contemporary bluegrass set on their hands for their recording debut as a duo but Old McDonald Sold the Farm deserves to be a staple on Internet and satellite radio and give these guys their spot in any appropriate hall of fame. An amazing 2:30 look at the changing face and character of rural America, somebody not making 'fringe' music on an indie label could ride this to the top of the charts. The rest of the set isn't chicken feed either. This could kick start a whole new bluegrass era." - Midwest Record Reviews
Fans can order Reborn at Pinecastle Records Amazon, iTunes and more locations. Mark Newton and Steve Thomas will perform at Kimbros Café in Franklin, TN this Thursday, May 2 from 7:00 – 9:00 pm. Dinner reservations can be made by calling 615-599-2946 or by visiting Kimbros Café.
Stay up to date on Newton & Thomas by visiting www.NewtonandThomas.com [1] and joining them on Facebook [2].