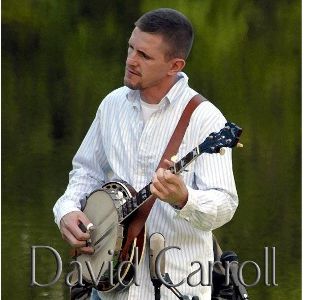 Darrell Webb hired David Carroll as the new banjo player for the Darrell Webb Band. Born and raised in Bath County,VA David now lives in Bedford, VA with his wife and daughter. David played banjo for the Deer Creek Boys a local band from Amherst County, VA. David has appeared on stage with a number of national artists "I am really excited and looking forward to being a part of such an awesome band" Said Carroll.
Darrell Webb adds "I'm very excited to have David Carroll joining the Darrell Webb Band! David is a great player and a true gentleman. I think he will bring a lot of excitement and new energy to the band" The Darrell Webb Band is currently in the studio working on their new album to be released later this year by Rural Rhythm Records! The new album is being produced by Jim VanCleve.
Darrell Webb is a Grammy nominated session musician as well as an IBMA and SPBGMA award winner. He has recorded with Dolly Parton, Bobby Hicks, Marty Rabon and the queen of bluegrass Rhonda Vincent. His 20 year career includes performing with legendary banjo pioneer J.D. Crowe and the Lonesome River Band. Darrell has appearing on stage with Bill Monroe, Ralph Stanley, Dierks Bentley, Doyle Lawson, and Ken Mellons.
The Darrell Webb Band records for Rural Rhythm Records in Nashville, Tennessee. Their first recording project, Bloodline released in 2010 stayed on bluegrass and acoustic music charts from 11 months. The title track Bloodline was written by Larry Cordle and Connie Smith. Adam Steffey contributed the liner notes and the band produced a music video on the song Miner's Hell.
Their unique use of nearly invisible wireless microphones allows the band have total ownership of any stage large or small. Their act is jam packed with such intensity crowds are left wanting more every night.