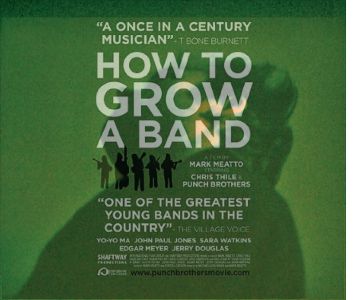 Filmmakers Mark Meatto & Mike Bohlmann have announced that the How To Grow A Band film is now available on iTunes. "We've been waiting more than 5 years to say that" commented the filmmakers. "We now look forward to sharing the film with more people in more countries than ever before through iTunes and other digital platforms. Starting today, the film is available on iTunes in the US, UK, Canada & Australia."
In How To Grow A Band, 26-year-old Chris Thile is at a crossroads. His marriage has ended, and his platinum-selling band, Nickel Creek, has gone on indefinite hiatus. But Thile, a perfectionist prodigy who's defied expectations since he learned the mandolin at age five, has a plan. Step 1 - Write a 45-minute, four-movement elegy to your failed marriage to be played by a bluegrass quintet. Step 2 - Recruit the only musicians around talented enough to play it and brave enough to sign on. Step 3 - Make a record, launch an international tour and brace yourself. Filmed with uncommon access, How To Grow A Band provides a rare look at the start of one of America's most promising young bands and explores the tensions that test young artists.
How To Grow A Band is an independently produced, feature-length documentary about Punch Brothers—a group of jaw-dropping musicians who set out to do something pretty daring and very awesome. Our documumentary is an intimately rendered, observational film about the early days of one of the most talented young bands on the planet. How To Grow A Band has been completed, mixed and mastered. It has been distributed theatrically and received critical praise along the way—like being named a New York Magazine Critics' Pick and one of Paste Magazine's Top 10 Music Documentaries of 2012.
We have been pleasantly surprised by the number of people that have written us requesting a DVD or BluRay. So our concept is to create a high-end, limited-edition two-disc set loaded with bonus features, extras and goodies that won't be available anywhere else, all in a package so beautiful you could introduce it to mom and dad. Even if our campaign to make these DVDs/BluRays does not succeed, most of you will still have the opportunity to watch How To Grow A Band. Beginning on April 23, the movie will roll out across digital platforms (iTunes, Amazon, Netflix and others) in the US/UK/Canada/Australia, followed by worldwide later in the year.