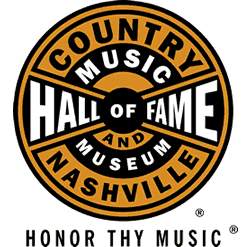 Nashville, TN -- The Country Music Hall of Fame® and Museum has received a $280,000 grant from the National Endowment for the Humanities, museum officials announced today. The grant will fund the digitization of rare and fragile components of the museum's collection. The grant's title is Preservation and Access: Digitizing Rare and Fragile Components of the Country Music.
The grant was awarded in the NEH's Humanities Collections and Reference Resources category, which allows institutions to preserve and provide access to collections essential to scholarship, education and public programming in the humanities. The preservation and provision of intellectual access to three collections documenting the history of country music in America: 1) Bob Pinson Recorded Sound Collection, 2) Moving Image Collection: Bobby Bare and Friends, and 3) Photo Collection: Fabry Still Image Collection.
The funds will enable Country Music Hall of Fame and Museum curators to digitize rare and fragile artifacts in its recorded sound, moving image and photography collections, including acetate transcription discs of WSM-originated network radio shows such as the Grand Ole Opry and Magnolia Blossoms, the latter featuring the Fisk Jubilee Singers from Nashville's Fisk University.
Also destined for digital duplication would be tapes of the 1983-88 television series Bobby Bare and Friends, which showcases American musicians and songwriters in a guitar pull format and is among the museum's most requested collections.
The Walden S. Fabry photography collection, which contains nearly 8,500 negatives and prints of 1940s - 1960s era artists including Patsy Cline, Willie Nelson, Roy Orbison, Hank Williams and many others are also be candidates for duplication.
"With these grants, the National Endowment for the Humanities continues its support of some of the most imaginative humanities research of our day," said NEH Chairman Jim Leach. "From efforts to use new technologies to shed light on ancient history to undergraduate courses that help new generations grapple with the enduring questions of humankind, the projects receiving funding today will expand the boundaries of human knowledge and deepen our connection to our past."