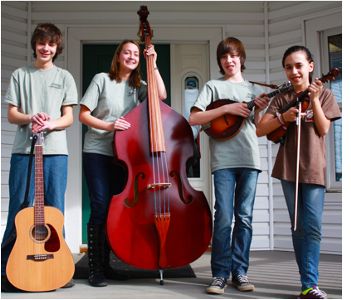 Abingdon, Virginia – The Crooked Road: Virginia's Heritage Music Trail proudly presents a Youth Music Performance Series concert on Thursday, April 11th from 6:00 to 7:30 p.m. at Heartwood: Southwest Virginia's Artisan Gateway in Abingdon, Virginia. The special concert, co-hosted by WVTF Radio as part of Public Radio Music Month and the Town of Abingdon, will feature the Blackberries.
The Blackberries are a youth bluegrass band from the Floyd Music School in Floyd, Virginia. The band members range in age from 10–16 years of age and include Aila Wildman on fiddle, Eli Wildman on mandolin, Sam Mackian on guitar, and Laurel Brooke on bass. Their name is influenced by the well known fiddle tune, "Blackberry Blossom", which was one of the first tunes the band played together.
They have been featured at Heartwood several times, as well as at the Chantilly Festival in Floyd and at many regional church and community events. This dynamic group, under the direction of Mike Mitchell, features players that are highly skilled in both classical and bluegrass genres and will explore cross-genre elements in this unique performance.
"Floyd Music School students have always studied their heritage music, and I have made sure that they are well aware of the fact that bluegrass and old time music is their birthright. They learn about the Bristol sessions, and their first fiddle tune is 'Wildwood Flower'. Our students also learn skills derived from a far older tradition, as my teacher and her teachers before were from the Viennese and German schools of music." says Mitchell, who is quick to point out that his first choice is bluegrass music, but that he also enjoys his jazz and classical trios as well as playing electric fiddle in the West Virginia Jam Band, The Recipe.
"The Blackberries are excited to have the opportunity to showcase their complete skill set at Heartwood, and we will have Floyd Music School teachers and WVTF's Cara Modisett on hand to accompany them!"
WVTF, based in Roanoke, is participating for the second year in NPR's Public Radio Music Month (PRMM). PRMM is a celebration of music in NPR stations' listening communities, and WVTF will be participating in and hosting a number of live events through April, as well as airing music-centered features. Music at WVTF is now on Facebook and on Twitter (@WVTFMusic).
The Crooked Road Music Series features youth music performers, as well as showcasing venues of the Crooked Road region. These events along with open jams on the 1st, 3rd, (and 5th) Thursday of every month are hosted at Heartwood. A complete schedule for the music series is available on The Crooked Road website at www.thecrookedroad.org [1] or at www.heartwoodvirginia.org [2]. The music series is sponsored by The Crooked Road, Heartwood, Virginia Commission for the Arts, and the National Endowment for the Arts.
Heartwood: Southwest Virginia's Artisan Gateway is located off I-81 at Exit 14 in Abingdon, Virginia and features food, music, and craft of Southwest Virginia. Admission to the concert is free and donations will be accepted for The Crooked Road Traditional Music Education Program (TMEP).
For more information on The Crooked Road Music Series call (276) 492-2409 or email: info@thecrookedroad.org [3].