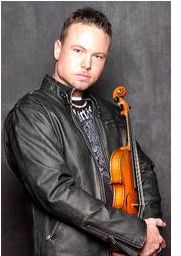 Jim VanCleve, founding member of Mountain Heart (fiddle) contracted Dengue Fever from mosquito bites he got from a recent trip to St. Croix and his body is over worked and not fighting the illness properly. Since returning he has suffered extremely high fever (105), severe headaches and body pain in his muscles and joints and a terrible rash over his upper body, all associated with this tropical disease.
Jim was admitted to a Nashville hospital to control his fever and other treatment. He may require a blood transfusion today because his white blood count had dropped to a very dangerous low. His immediate family is with him and they along with the entire Mountain Heart team are confident he will bounce back strong soon but we are asking for everyone's prayers as he gets past this rough time.
While in the hospital, his temperature has been controlled with Tylenol but is still bouncing up and down. The family is hoping that a blood transfusion won't be required but his white count is very low. Readers may follow the postings on his Facebook Page [1] and here [2].
Dengue fever, also known as breakbone fever, is an infectious tropical disease caused by the dengue virus. Symptoms include fever, headache, muscle and joint pains, and a characteristic skin rash that is similar to measles. In a small proportion of cases the disease develops into the life-threatening dengue hemorrhagic fever, resulting in bleeding, low levels of blood platelets and blood plasma leakage, or into dengue shock syndrome, where dangerously low blood pressure occurs.
At 31, fiddler Jim Van Cleve has already achieved more than many musicians do in a lifetime, and with the release of his solo debut, No Apologies, the dynamic youngster has taken a bold step forward. Producing, arranging, performing, and sharing in the writing credits for more than half of the CD's eleven selections, Jim has created a collection of unusual depth and breadth that can only enhance his reputation as one of the leading musicians of his generation.
Mountain Heart is the band that has been fearlessly revolutionizing the way acoustic music can be presented and played. Widely known throughout the music industry for constantly redefining the cutting edge, the band has gained legions of fans both as a result of their superlative musicianship, and more notably, their incomparably exciting live performances.