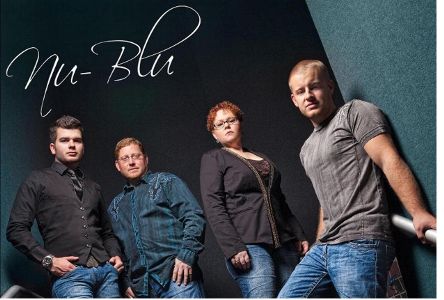 Nashville, TN -- Nu-Blu kicks off their 10th Anniversary year with the launch of a brand new website [1] and a national tour that will take them across the country performing at major festivals, concert halls, and more. The band will soon announce details of an upcoming album, but are continuing the celebration of their latest album, Nail by Nail
"Martha and Mary," written by Becky Buller and Nancy Cardwell, is the first single release from Nail by Nail released on Pinecastle Records. The song appears at #2 on this month's Singing News Magazine Top Song Chart for the second month in a row, climbs higher on Bluegrass Unlimited Magazine's Top 30 Bluegrass Song Chart, and previously debuted at #8 on Bluegrass Today's Weekly Top 20.
Nu-Blu is also proud to announce their lead vocalist and bassist, Carolyn Routh, graduated from the International Bluegrass Music Association's Leadership Bluegrass 2013. Leadership Bluegrass is an intensive, three-day program focused on interactive learning and networking experiences that invite participants to examine the challenges and opportunities facing the bluegrass music industry, along with leadership development issues. Leadership Bluegrass 2013 was hosted at BMI, and Bone McAllester Norton PLLC in Nashville, Tennessee earlier this month.
By mixing their original songs along with traditional material, and incorporating songs from other generes, Nu-Blu creates a unique and driving blend of music which has been attracting fans and new audiences across the country.
Through the years, Nu-Blu has worked hard to develop a group that would give the listener a diverse experience. By mixing their original songs along with traditional material, and even incorporating songs from other genres, the group has certainly created a unique and driving blend of music that keeps audiences coming back for more.
Nu-Blu was founded by husband and wife team, Carolyn and Daniel Routh. Carolyn, on bass, provides her trademark lead vocals with impressive clarity and vocal range and Daniel, on guitar, brings his songwriting and vocal talents to the group. The two young guns, Levi Austin (banjo and vocals) and Austin Koener (mandolin) fill out the ranks providing the band with a solid and talented backbone.
For more information on Nu-Blu including tour dates, music and band members, Daniel Routh, Carolyn, Routh, Levi Austin and Austin Koerner, please visit their new website at http://Nu-Blu.com/ [2]