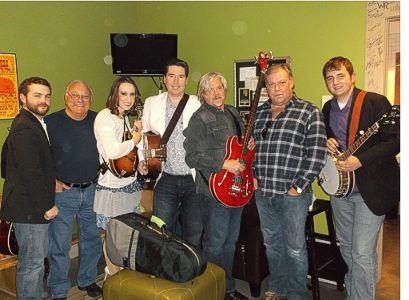 Nashville, TN – Mountain Home recording artists, Darin & Brooke Aldridge, returned to Nashville's Music City Roots show, on an evening with an all-star cast that included entertainment legend, John Cowan. The musicians took some time backstage to swap stories from the road and stage. Darin and Brooke are known as the "Sweethearts of Bluegrass."
The Aldridge's have been in the studio putting the final touches on an upcoming project. Their most recent release is a live project, "Live from Red, White & Bluegrass."
It is unusual for a band - especially a country/bluegrass/acoustic/gospel band - to appeal to fans of every generation, but that is exactly what has happened with Darin and Brooke Aldridge. Grandma and Grandpa love the old standards done to perfection. Mom and Dad snuggle up a little closer when the "Sweethearts" do one of their country love song duets (and mean every word that they sing). Even the youngsters find tunes in a Darin and Brooke Aldridge show that start their toes tapping and hands clapping.
Brooke and Darin met singing in church and grew up with a love for family, church and music. These values provide the power and emotion for their music and the road map for their lives as husband and wife. Every performance is entertaining and family friendly. Tom T. and Dixie Hall hailed Darin and Brooke as the new "Sweethearts of Bluegrass" but the band is more correctly described as Acousticana. Fans across the country have discovered the "new but still traditional" music Darin perfected as a member of the Acoustic Syndicate and the legendary Country Gentlemen.
So Much In Between, was released August 16, 2011 on the Mountain Home label and reached the #2 spot on the weekly bluegrass charts within six weeks. The project was inspired and produced by country music greats Jerry Salley and Tom T. Hall (who also sing on some of the song tracks). That is the same team that produced Darin and Brooke's hugely successful self-titled album in 2010. That album was either #1 or in the top 5 on most charts and a song from the album was still #2 on the bluegrass chart a year later. They were the most played bluegrass artists on Sirius/XM radio last summer and again in February 2012. For the second year in a row they were the opening act for the Bluegrass Music Awards show in Nashville.
Darin and Brooke and their band have recently taped shows for three cable TV networks, appeared on "Song of the Mountains" for PBS, and on a live, worldwide webcast of an all-star "Music City Roots" performance from Nashville. They are currently completing a music-video of their Americana hit song "Wildfire", and a DVD featuring the group's most requested songs.