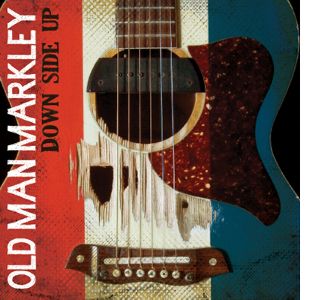 Los Angeles, CA -- Los Angeles "newgrass" septet Old Man Markley has picked and fiddled their way into the #1 spot on the Bluegrass Chart and #171 on CMJ's Top 200 with last week's release of their sophomore album, Down Side Up. This marks the band's second consecutive album to debut in the top ten on the Bluegrass chart, further cementing Old Man Markley's place as one of the genre's best revival acts.
Melding bluegrass and elements of punk rock into a fusion that's become known as "newgrass," Old Man Markley transcends the norm with a fresh take on a traditional, down-home style of music with Down Side Up.
From the track's opening fiddle to its washtub-thumping rhythm, "Train of Thought" is a barn-burning track that showcases the band's incredible musicianship and is practically made for listening while sippin' some moonshine, stompin' boots at your local bonfire or even mixing it up in a punk-rock circle pit.
"'Train of Thought' is a cargo car of ideas let loose on the tracks," bassist/vocalist Joey Garibaldi tells CMT.com. "The fiddle lines soar like scenery viewed through a train window, the guitar drives the song forward, and the music flies full-speed ahead, just like life...it reminds us, above the beautiful rush of sound, to remember to slow down and look around. Smell a rose. Watch a train go by. Take the scenic route."
The sentiments of a "beautiful rush of sound" are felt throughout Old Man Markley's sophomore full-length. The album features thirteen tracks that blur the gap between bluegrass, country and punk rock like the recently released single "Blood on My Hands" and "Rehearsal."
Old Man Markley are currently on tour with Dropkick Murphys with additional spring/summer dates coming soon. Follow Old Man Markley's newgrass movement at http://www.oldmanmarkley.com/ [1]