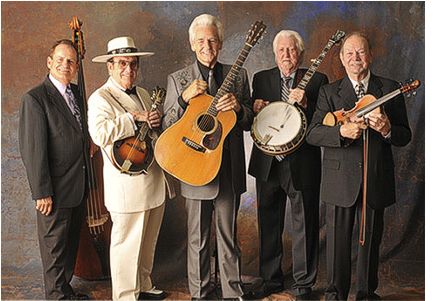 Bristol, TN/VA -- On Friday, March 15th, lucky audiences in Bristol, Tennesssee are expected to enjoy a once-in-a-lifetime bluegrass musical experience when two bands of bluegrass music legends and masters, for whom the term "supergroup" seems grossly inadequate, make their first road appearances since each debuted at the International Bluegrass Music Association's World of Bluegrass last October. The Masters of Bluegrass will be joined with The Rambling Rooks in a wonderful bluegrass music extravaganza. Originally scheduled for January 25th, the program had to be rescheduled due to bad weather. Now, the Paramount Center for the Arts will present this program Friday, March 15th.
Hailed as an unrivaled assembly of first and second-generation legends, the Masters of Bluegrass -- J. D. Crowe, Bobby Hicks, Del McCoury, Jerry McCoury and Bobby Osborne -- anchor a night that begins with the Rambling Rooks, featuring three of the most admired and influential musicians of the past 20 years by reuniting one-time Lonesome River Band members Ronnie Bowman, Don Rigsby and Kenny Smith. Either group would be exciting enough on their own, but put them together and the result is guaranteed to be a one-of-a-kind musical experience.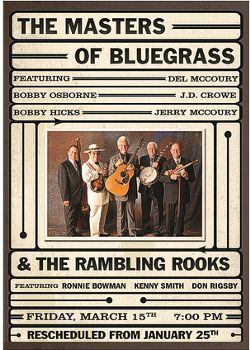 Between them, the Masters of Bluegrass can count four Bluegrass Hall of Famers, two Grand Ole Opry members and a lineage that reaches back to bluegrass music's earliest days. Separately (and occasionally together), they've appeared on countless late night TV shows, at every major bluegrass venue and on prestigious music festival and performing arts center stages across the country and around the world, where they've built enduring careers by delighting new fans and thrilling long-timers alike with wit, warmth, virtuosity and enduring creativity. The Masters are truly both keepers of the flame and also bearers of the torches with which bluegrass is blazing new trails in the 21st century.
With a score of IBMA awards between them, the Rambling Rooks have been in the forefront of bluegrass for some twenty years themselves, including a key five year stint with the Lonesome River Band. Since their departures from the band early in the new century, each has earned acclaim for individual accomplishments -- Bowman as a soulful singer and successful songwriter with a brace of #1 country hits to his credit; Rigsby as a college-level bluegrass educator and soaring vocalist; Smith as the co-leader of the Kenny & Amanda Smith Band, known as one of the most elegant exponents of modern bluegrass.
With renowned banjo man Rob McCoury on board for the tour, the Rambling Rooks live up to their name with an unsurpassed ability to wander through the entire bluegrass catalog, dishing up first generation classics along with their own contemporary contributions to the genre.