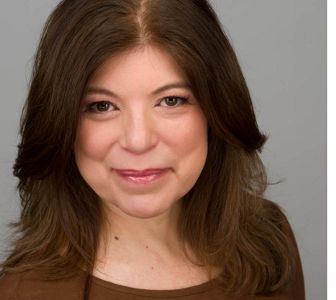 New York, NY -- Well known bluegrass radio DJ and artist, Carol Beaugard, is making her Off-Broadway debut in "The Plastic Couch" as part of the Strawberry Theatre Festival at the Hudson Guild Theater located at 441 West 26th Street in New York City. Beaugard stars as Grandma Carmen in the original play written by Alyssa Burgos, a portrait of three generations of a New York Puerto Rican family and the grandmother whose humor, eccentricities, and mental illness inhabits the center of their world. "The Plastic Couch" will be presented on Thursday, February 28 at 8:00 p.m., Monday March 4 at 6:30 p.m. and Sunday, March 10 at 3:00 p.m. For tickets contact The Riant Theatre Box Office at 646-623-3488.
The Strawberry Festival is an extension of the Strawberry One-Act Festival created 23 years ago by Artistic Director Van Dirk Fisher as a play competition to select the best plays of the season. The Strawberry Festival serves as a wonderful showcase for the Riant to discover outstanding playwrights and the best up and coming actors, providing them with an environment to flourish and develop their craft.
Beaugard's leading role reveals a 64 year old grandmother whose hospitality toward her family doesn't seem to betray any mental illness. However we soon realize that her quirky behavior and agitation is caused by her years of schizophrenia, and the play takes on a grave yet inspiring tone.
"I grew up in Spanish Harlem and relate easily to the family dynamic depicted in the play", said Beaugard. "The role is challenging but exciting and incredibly complex. It's a joy to share the stage with such a talented ensemble of gifted actors. I'm dedicating the performance to my father and late mother and grandmother who raised me with so much love in very trying times and circumstances."
Beaugard is pursuing a professional career in acting and voice-over work. Her credits include work in theater, film, television and radio. This season she will be seen starring in two episodes of 'Fatal Encounters' on the Discovery Channel, as well as background work on the NBC musical 'Smash'.
Stage credits include "Plaza Suite" (Muriel Tate), "Avenue Q" (Christmas Eve), "Flower Drum Song" (Mei Li), "Piaf" (Edith Piaf), "Harvey" (Myrtle Mae Simmons), "The Dinner Party" (Gabrielle) and "Godspell" (Peggy/Robin). In 2012 she also appeared Off-Off Broadway at the renowned 13th Street Repertory Company as the Queen in the original children's musical "Rumple Who".
Beaugard is well known for her work as a renowned radio DJ and lead singer. Her radio program "Lonesome Pine RFD" broadcasts throughout the N.Y. metropolitan area on 89.1, WFDU-FM and is syndicated worldwide on WAMU's 'Bluegrass Country' headquartered in Washington, D.C. She is also the lead vocalist of her band "Carol Beaugard & Blue Express".
"The Plastic Couch", written by Alyssa Burgos and directed by Laurence C. Schwartz will be on stage at The Hudson Guild Theater, part of the Strawberry Theatre Festival on Thursday, February 28 at 8:00 p.m., Monday March 4 at 6:30 p.m. and Sunday, March 10 at 3:00 p.m. For tickets, contact The Riant Theatre Box Office at 646-623-3488 or email RiantTheatre@gmail.com [1]. For more information visit http://www.therianttheatre.com/item.php?id=163 [2]. For information on Carol Beaugard visit www.facebook.com/carolbeaugard [3] or http://www.imdb.com/name/nm5533873/ [4]