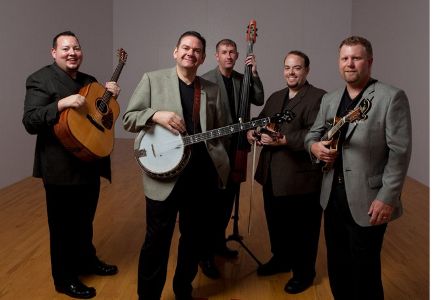 The Sons of the American Legion and Jay Armsworthy prepare for the final American Legion Bluegrass concert of the winter season with Joe Mullins & the Radio Ramblers. The show takes place on Sunday March 24, 2013 at the American Legion Post 238 in Hughesville, MD with Chris Tenney & Riverside South opening the show.
From the Ohio valley comes the 2012 IBMA Emerging Artist of the Year, Joe Mullins & the Radio Ramblers. They play only the solid old-school bluegrass picking and harmony singing. Joe and the Radio Ramblers continue the tradition by keeping the time-honored traditional bluegrass sounds front and center. They have an energetic mix of quality Bluegrass and gospel music with a professional presentation, inventive instrumental work, vocal arrangements and a good variety of tasteful, down-home humor.
Joe Mullins has enjoyed a very active career in bluegrass music for over 25 years. His recording career includes four albums on Rebel Records with his father, the highly esteemed Paul 'Moon' Mullins and former band, the Traditional Grass. Since the turn of the century, Joe has worked on a couple of award-winning projects including the popular IBMA award winning outfit, Longview and in the process, has been honored for his banjo playing.
The professionalism and success of Joe Mullins & the Radio Ramblers heavily played recordings have kept them in demand with a national Audience. They have been seen by thousands of fans across the country at many national events. They have won the IBMA's "Emerging Artist of the Year" award in 2012 and have been featured performers of the Bluegrass Nights at the Ryman in Nashville, TN in both 2011 & 2012. There latest album "They're Playing My Song" on Rebel Records has reached the Billboard's Bluegrass Top Ten in December 2012 and there song, "Bottom of a Mountain" reached #1 on the Bluegrass Today National Radio Survey. Joe Mullins has earned 5 IBMA Awards and 3 SPBGMA awards over the past two decades.
Opening the show at 2:00 pm will be the Prince Frederick Bluegrass favorites, Chris Tenney & Riverside South from Calvert County. As always, Troy Jones will be on the sound board.
The show will be held at the American Legion Post 238 in Hughesville, Maryland on the corner of RT 381 & RT 231 and will begin at 2:00 pm with the doors opening at Noon. Tickets for the show are $15.00 per person. Hamburgers, Hot Dogs, and all the fixings will be available for sale before the show.
For more information, tickets, and directions, go to www.americanlegionbluegrass.com [1] or call 301-737-3004. All paid tickets will be held at the door for pick up on the day of the show. Also non-perishable food donations will be accepted for the Helping Hands Food Bank in Southern Maryland.